Continuing Education For Massachusetts Construction Supervisor License Holders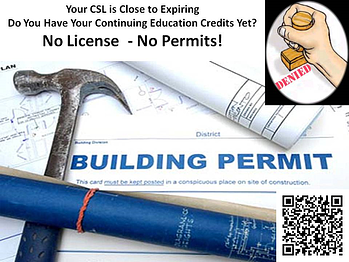 Scheduled Classes:
For unrestricted and restricted sign up for the full class.
If you are a Specialty License holder and only need 6 credits (Roofer, Siding and Windows, Masonry, Insulation, Demolition, Burning Fuel sign up for one day.
SEATS AVAILABLE, REGISTER NOW!
To register find your date and location on the brown tabs on the upper left.
What you need to know about Continuing Education Requirements to renew your Construction Supervisor License in Massachusetts
Who is affected and what do license holders need to do?
Massachusetts Construction Supervisor License holders are now required to earn Continuing Education Credits (CEU's) to renew their license. The Board of Building Regulations announced this program went into effect in July 2011. Licensees must provide proof of completion of the the required hours per license type for every two year license cycle.
When do I need to obtain the required hours?
Very important; there is confusion and mis-information regarding the timing and requirements of the CEU requirement. Some contractors have reported that they were coaxed to sign up for training prematurely. Some were not told that they had as much as three years to obtain their credit hours. Before you sign up for training make sure you are certain of your renewal date that requires credit hours. Some trainers are capitalizing on contractor ignorance and getting contractors to sign up earlier than neccessary without divulging all the facts.
If your next license renewal is between 7/1/2011 and 6/30/2013 you

will not

need to provide continuing education credit hours upon your next renewal.
If your license renews 7/1/2013 or later you

will

need to provide proof of continuing education credit hours to renew your license at that time.

The BBRS has announced that taking approved courses now (before your next renewal date) will count towards your required credit hours.
How many credits and hours do I need to obtain?
Depending on your license type you will need a minimum of 5 required topic credit hours and the balance to come from approved elective courses.
Unrestricted; Construction Supervisor License; 12 credit hours, 5 required topic credit hours and 7 elective
Restricted; One and Two Family License; 10 credit hours, 5 required topic credit hours and 5 elective.
Specialty Licenses; 6 credit hours, 5 required topic credit hours and 1 elective.
| | | | |
| --- | --- | --- | --- |
| CSL Unrestricted | 12 Hours | CSL Specialty (1A) Masonry | 6 Hours |
| CSL Restricted | 10 Hours | CSL Specialty (DM) Demolition | 6 Hours |
| CSL Specialty (WS) Windows/Siding | 6 Hours | CSL Specialty (IC) Insulation | 6 Hours |
| CSL Specialty (RF) Roofing | 6 Hours | CSL Specialty (SF) Burning Fuel | 6 Hours |
How can I obtain my Mass approved CSL CEU training?
To obtain your required credits licensees must take classes provided by coordinators and approved by the BBRS. The BBRS approves coordinators to deliver the appropriate training. The approved classes must impart appropriate and related knowledge in the regulated industries. The student must attend the class in its entirety in order to receive their credits.
When?
We schedule the classes one or more months in advance and post them on this website and send announcements out to our strategic partners. Students can register online or by phone.
Mass Continuing Education Courses
Here is the list of approved courses for Massachusetts Continuing Education for Construction Supervisor License Holders. The coordinator and courses are listed. The facilatator for the courses is The Contractor Coaching Partnership, Inc.
Coordinator: The Contractor Coaching Partnership, Inc. CSL-CD-0075, Courses:
Small Business Finances: CS-7500, 2 CEU's Business Practices (1 hour), Elective (1 hour)
Choosing and Targeting the Right Customers and Project Types: CS-7501, 2 CEU's Business Practices (1 hour), Elective (1 hour)
OSHA Fall Protection: CS-7502, 6 CEU's Workplace Safety (1 hour), Business Practices (1 Hour) Electives (4 hours).
Differences Between RRP Regulations in Mass vs EPA CS-7503, 2 CEU's, Workplace Safety (1 hour), Lead (1 hour).
OSHA 10 for Construction Workplace; CS-7504, Safety (6 hours)
Coordinator: Shawn McCadden CSL-CD-0078, Courses
Smart Selling For Tough Times: CS-7800, 2 CEU's Business Practices (1 hour), Elective (1 hour)
Know What Your Selling Before You Sell It: CS-7801, 2 CEU's Business Practices (1 hour), Elective (1 hour)
Sold it Now You Have to Build It...CD-0078 CS-7802, 2 CEU's Business Practices (1 hour), Elective (1 hour)
Estimating, Pricing and Producing Successful Construction Projects CD-0078, CS-7803 (6 CEU Hrs Business)
Core CEU Requirements for Mass CSL Holders CD-0078, CS-7804 (5 Core CEU, I Elective)
Choosing, Marketing and Selling to the Right Customers for Your Contracting Business; CS 7805 Business Practices (6 Hours)