We have new dates up for Mass EPA RRP training in Massachusetts. Given that the EPA and OSHA in Region 1 (New England) just announced that they will work together to enforce RRP and OSHA Standards many contractors are now seeking certification.
Spring is right around the corner and soon the RRP inspectors will be combing the neighborhoods. In addition OSHA is out and about visiting residential projects looking for Fall Protection violations.
RRP Manual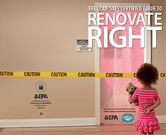 Renovate Right Pamphlet
If you are a contractor working on pre 1978 properties and haven't certified yet now might be a good time to get on board before the spring season.
Training dates;
2/28/2012 Safety Trainers Auburn, Ma
3/16/2012 Brockway Smith Andover, Ma.