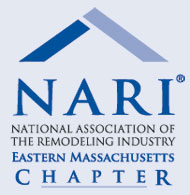 Eastern Mass NARI (National Association of The Remodeling Industry will have a booth at the upcoming Shriners Home Show in Wilmington, Ma.
EMNARI members will be educating consumers at the home show about the trade organization contractors and the importance of hiring a professional contractor. NARI is a trade organization for the residential remodeling industry. Its members include contractors, support trades, material suppliers and professionals who support them.
Contractors who want to be part of an organization committed to the industry's success join NARI to engage with their peers and participate in their educational programs.
The show information is below.
Show Address:
Shriners Auditorium
99 Fordham Road
Wilmington, MA 01887
Read More