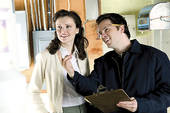 The lead carpenter system utilizes pre-construction meetings when turning over a sold project to production to insure that a project gets off on the right foot. Construction business owners who utilize this system effectively tend to have happier clients and smoother flowing jobs.
Have you ever experienced the following scenario....
You work your butt off to design, scope develop, select products, price and then sell a remodeling, kitchen, bath or addition project with your homeowner client. Then over the course of the next one to three months you get the permit, order the products and line up the crew and subs. The day comes when you start the demo and proceed into framing and rough. Then on cue the homeowner starts a daily barrage of emails, texts and phone calls after hours questioning every little and big item underway. You find yourself on the job site everyday to address their concerns and wonder if they remember what they approved in the contract. They begin to grill you as if they do not trust that you will perform per the contract.
Read More