The lead carpenter system utilizes pre-construction meetings when turning over a sold project to production to insure that a project gets off on the right foot. Construction business owners who utilize this system effectively tend to have happier clients and smoother flowing jobs.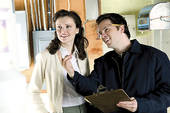 Have you ever experienced the following scenario....
You work your butt off to design, scope develop, select products, price and then sell a remodeling, kitchen, bath or addition project with your homeowner client. Then over the course of the next one to three months you get the permit, order the products and line up the crew and subs. The day comes when you start the demo and proceed into framing and rough. Then on cue the homeowner starts a daily barrage of emails, texts and phone calls after hours questioning every little and big item underway. You find yourself on the job site everyday to address their concerns and wonder if they remember what they approved in the contract. They begin to grill you as if they do not trust that you will perform per the contract.
You are wondering why your lead carpenter on the project can't handle these items on site with your client. The daily barrage prevents you from spending time on new sales opportunities, running your business and causes you to miss out on precious moments with family.
This scenario is very common for remodelers and contractors who do not conduct a pre-construction job preview meeting with the homeowner. Often times the homeowner does not recall all the choices and scope of work items that are memorialized in the contract. They do remember that they gave you a hefty deposit weeks or months ago and they do not have their new toy yet!
In a successful lead carpenter system (LCS) the first step after a job is sold (assuming you have a complete file) is the pre-construction phase. In this phase a LCS company will develop and implement standard operating procedures designed to keep the homeowner informed frequently while the job is set up. It is imperative that the sales person maintain regular contact until a job site pre-construction meeting takes place.
In our Workshop we help Construction Business Owners discover if this process will help them manage their projects more effectively. Remodelers who adopt the LCS experience better outcomes, happier clients and more profitable jobs.
Personal experience using this approach...
I remember early on in my remodeling sales career that I was often called by homeowners who just plain forgot what they bought several months before the job started. This caused a significant loss of productive time and lead to misunderstandings with our clients. Something had to change to make sure our projects got off on the right foot and our lead carpenters were not under the pressure of homeowner micromanaging. That change was developing and implementing a LCS.
When we started holding pre-construction meetings before the job commenced we saw an immediate improvement in our clients demeanor and happiness. Properly conducted, our customers witnessed a organized passing of the baton from the salesperson to the lead. We developed and implemented this process to ween the homeowner off of the salesperson and on to the lead. This communication step helped the homeowner see that the job was in the capable hands of our trained lead who became the new first point of contact. Our leads were thankful that the homeowner was taught how to communicate leading to less stressful job issues.
To get started with this concept here are 5 important steps;
Create a complete and thorough construction package and file before passing on to your production team.
Create a complete file checklist to make sure nothing falls through the cracks.
Stay in touch with you customer on a weekly basis until your pre-construction meeting.
Conduct a pre-construction meeting to de-bug the job in your office with your production team and important subs before the meeting at the client's house.
Create an agenda checklist to conduct the pre-construction meeting with the homeowner, lead carpenter and salesperson.
For help on how to effectively manage your projects using the LCS check out our workshop or contact me.