ASAP Environmental, Inc. owner John MacIsaac has joined our Contractor Business Success Program and will sponsor a Lunch and Learn on 3/5/2013. The workshop scheduled for this day is on the Mass vs EPA RRP Differences. John is an expert in lead and mold inspection services and is a well known leader in the lead community.
This RRP Differences Workshop and paired Lunch and Learn is designed to help you the contractor, remodeler, builder who renovates or specialty trade who:
Wants to know how you can reduce your liability by working with a lead inspection firm.
Are unaware or not sure of work you can and cannot do depending upon the purpose and type of lead license you hold.
Are unaware or uncertain of the OSHA requirements you must follow that written into the Mass RRP Lead Law.
Are not sure of the changes in the Mass RRP Lead Law that are more stringent than the EPA RRP Law.
Want to know how to properly implement the Mass RRP requirements into your business.
Want to know about the current enforcement efforts underway by DLS
Want to know the facts vs the rumors about what you need to do and not do to be as legal RRP contractor in Massachusetts.
Lunch and Learn Segment from 12:00 to 1:00 PM on 3/5/2012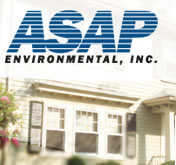 John will share his insights on how contractors can use the services of a lead inspection firm to reduce laibility, educate homeowners and help contractors recognize and choose the right path when working on properties with lead.
ASAP Environmental Inc provides Certified Lead Inspection Services, Certified Mold Detection Services for homeowners, contractors and property management firms.
Mass vs EPA RRP Differences: 3/5/2013, 1:00-4:00 PM
This workshop will follow ASAP's Lunch and Learn and I will be your teacher.
You can register for the complete Contractor Business Success Program or you may choose individual workshops.