Last minute Mass contractors have been calling to get their CEU's (continuing education credits) before their CSL (Construction Supervisor License) expires. One contractor is concerned he will not be able to pull permits if he doesn't pick up his credits. He is justified to worry because some building inspectors told us at the May EMNARI dinner meeting they need to see a current license to give a permit. This means some contractors who need Continuing Education Credits after July 1st to renew their license may have to pass on some projects. Ouch!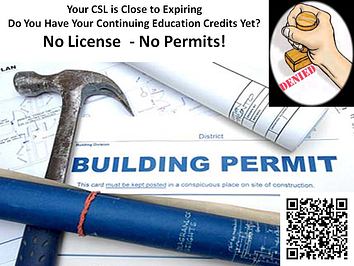 There are still some contractors out there who have a renewal date in July and are scurrying to get into a class. No worries Shawn McCadden and The Contractor Coaching Partnership, Inc. have your back. We have several trainings up right now to help you get credits before July or throughout the summer. Also with Shawn and Mark, you gain access to two well known business coaches who work with hundreds of residential contractors throughout the country.
Don't Just Get Your Credits! Get Valuable Training That Can Improve Your Business and Help You Make More Money!
2 Day CSL CEU Scheduled Trainings For Mass Unrestricted, Restricted and Specialty License Holders.....

Register Now
NOTE: Specialty License Holders can sign up for just one day.
Program Courses and descriptions click link.
Estimating, Pricing and Producing Successful Construction Projects. CD-0078, CS-7803
Core CSL Requirements for Mass License Holders CD-0078, CS-7804
Special Note: Other courses like OSHA Fall Protection, OSHA 10, RRP differences and more are available with CEU's.
Lumberyards, Material Suppliers and Private Contractors and Groups
We are currently planning other dates around the state for areas where there is a strong enough need. such as Northampton/Springfield, Mansfield, New Bedford, and Worcester. If you need one set up in your area and you have a minimum headcount we can help you. Contact Mark for more information.