10 ways OSHA finds your job site;
OSHA finds out about your job site from numerous sources and their own enforcement efforts. The potential costs when you are cited and fined are staggering and usually come at the worst time. Efforts to reduce the possibility of an OSHA job site visit is well worth the investment in training and equipment. Just about anybody riding by your project can be a source for OSHA job site audits.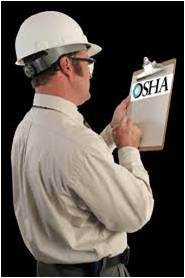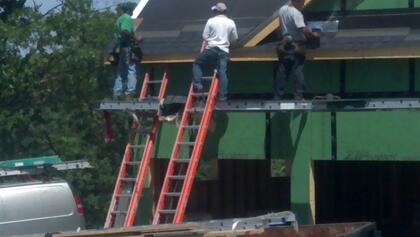 Job above has OSHA fall protection violations in Southboro Massachusetts.
Here is a list of ways OSHA finds you
Death of an employee or subcontractor worker or 3 injuries from the same event

Phone call to OSHA from a current employee or former employee
Phone call to OSHA from a competitor who lost the job you won
Phone call to OSHA from a contractor riding by who follows fall protection and sees that you don't.
Phone call to OSHA from one of your subcontractors who feels your job site is unsafe or they are mad that you haven't paid them for crappy or late work.
Phone call to OSHA from public officials like the building inspector and fire departments
Phone call to OSHA from another regulatory agency visiting your site such as EPA on RRP work, State Insurance regulators, Board of Health
Phone call to OSHA from a homeowner or neighbor.
Planned OSHA inspections for high risk industries such as residential construction
OSHA going to town/city hall to check open permits.
OSHA is citing and fining mainly residential contractors for fall protection violations
Last month I did 3 fall protection trainings for residential contractors who got cited and fined by OSHA. None of them are happy and all had no OSHA 10 training or Safety Programs in place. I was able to help one guy get the fine reduced in the early settlement program but he now needs to get his safety program in place withing a couple of months.
Last week I was contacted to handle another contractor citation and fine for a contractor in the Boston market and they are looking at thousands.
The sad truth is all of these citations and fines were preventable if the contractors at a minimum had a basic safety program in place and used fall protection when their men were working up on roofs and heights six feet above lower levels.
July 2014 was a deadly month; 3 people killed on job sites in Massachusetts;
A construction worker was killed in Plymouth when a 15 foot wall collapsed on him.
A construction worker was killed at Framingham State when he fell 20 feet to his death.
A construction worker in Boston was killed when he fell 12 feet of a ladder in the Back Bay.
All three falls were 20 feet or less!!!!!!!!!!!!!!
This is sad and will give OSHA more resolve to clamp down on construction sites in Massachusetts.
What to do.....regarding fall protection
Here is a straight forward recommendation to help prevent injuries deaths on your job sites and prevent OSHA citations and fines. Please be know that I choose not going to sugarcoat this or attempt to beat around the bush. I am finding that many contractors are not listening, causing injuries and getting whacked.
"Simply make sure everyone works safe according to the OSHA requirements and make sure others and OSHA can easily see that you do."
I truly hope no one gets hurt on your site and OSHA does not pay you a visit.
I am certain that if you do not have these things in place and OSHA pays you a visit you will be paying lots of money. All the evidence (contractors cited and fined) is on the OSHA Website under Data and Statistics.
General Contractors: this includes Builders, Remodelers and Construction Managers
Make sure you train and require that all your employees use fall protection when exposed to fall hazards 6 feet or more above a lower level.

Train your people to properly use harnesses, scaffolding and ladders.

Develop and implement a safety program and write a fall protection plan.

DO NOT ALLOW ANY SUBCONTRACTOR EXPOSED TO FALL HAZARDS TO WORK ON YOUR JOB SITE UNLESS THEY GIVE YOU A COPY OF THEIR FALL PROTECTION PLAN, SAFETY PROGRAM AND COPIES OF CERTIFIED TRAINING FOR THE MEN WHO WILL WORK ON THEW JOB SITE. The cheaper or unsafe subcontractor may end up being a red flag on your job site.

Require subs to use fall protection, remove subs that do not.

Conduct a site safety meeting with all sub and trades

Make sure everyone wears hard hats especially if they are exposed to falling object hazards form people working above them.

Make sure everyone wears safety glasses especially when they are working with or around tools and equipment that can produce projectiles.
If you are a specialty contractor, roofer, framer, sider, gutter, painter here is what you should do at a miminum
Develop and implement a safety program

Create a written fall protection plan

Train your employees on Subpart M (Duty to have fall protection), Subpart L (Scaffolding) and Subpart X (Stairs and Ladders).

The training must be certified, documented and kept on file.
Provide the correct fall protection, staging and ladders for your men to protect them. Train them on how to use it and make sure they use it.
Hard hats and safety glasses
Have routine safety meetings (tool box talks) on your job site and keep records of these meetings.