A few months ago I met Frank Dusek in Southampton, New York at our EPA RRP Certified Renovator training. After the training he told me he is going to use his RRP training to differentiate himself from other contractors on Long Island. Frank called me several times for guidance on how to approach an exterior renovation job. The soffit and fascia were rotted. The trim was up high over a lower roof. The dormers protruded from the mansard slope covered with slate.
I helped him develop his strategy to educate the homeowner of a property. He called me for some Lead Check swabs which I sent him. He gave the homeowner the Renovate Right Brochure

and explained the options regarding the lead test. She accepted and he found lead. The homeowner was thankful for the time he took to explain the process. He was awarded the project.
Here are some pictures of his containment.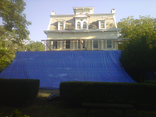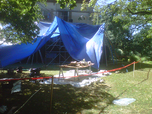 Frank chose to use his EPA RRP training as a way to set himself apart from the competition. Several other contractors looked at the job and did not know about the RRP Lead law. This concerned the homeowner and Frank politley explained why it was important to hire a certified contractor. Frank built rapport and trust by asking questions that were designed to encourage the homeowner to look into why the other contractors said lead wasn't an issue.
Frank took his training seriously and immediately implemented the RRP Lead safe practices. When he was stuck or needed a sounding board he called me for support. His decision to look at RRP in a positive light was rewarded.
Great job Frank.