EPA RRP Training requires that contractors comply with OSHA Laws governing lead safe practices. In the following slide from the EPA RRP Manual in Module 2, see OSHA followed by the bullet point; established worker protection standards.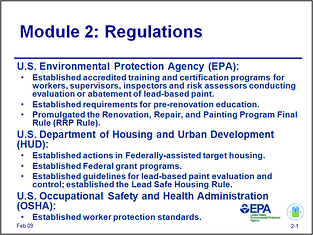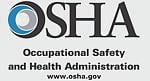 Below the slide in the manual it further states;
U. S. Occupational Safety and Health Administration (OSHA): OSHA has a Lead in Construction Standard which outlines worker protection requirements. Your employer should be aware of these. For more information, on the OSHA Lead in Construction Rule, see 29 CFR 1926.62 (http://www.osha.gov/Publications/osha3142).
What does this mean to EPA RRP Certified Contractors and non-compliant contractors?
Very simply, contractors are mandated by law to know and follow OSHA rules in The OSHA Lead in Construction Standard and RRP. The RRP training course spends very little time on this requirement. Residential contractors have little or no OSHA training or experience with OSHA rules that are required for contractors in the commercial construction industry. Construction industry experts we speak to believe RRP specific OSHA training will be needed to help the residential contractor learn what is really required. I fear contractors will try to wing it on their own and they may miss something that triggers OSHA fines.
Contractors have concerns and questions about the OSHA requirements mentioned in the RRP Manual.
We are fielding questions about The OSHA Lead Standard from contractors in New York, Massachusetts and other states. If you have been certified you already know there are inconsistentcies between the EPA RRP Rule and OSHA. Now throw in the OSHA Lead Standard with the new penalty structure at OSHA.
Contractor questions and concerns about OSHA;
What kind of OSHA training do we need? OSHA 10? OSHA 30?
What is involved in developing a respirator program?
What type of respirators do I need?
Do I really have to have my guys fitted for a respirator?
Do I have to send them to a physician and pay for it?
How do I develop a worker safety program?
Do I need to have my guys tested for lead?
I heard I need to do air monitoring; what do I need to do?
I heard I need to provide washing and showering facilities? Why
What are engineering controls?
I learned the permissible exposure level (PEL) is 50 micrograms then I read that I need to be prepared for respirators at 30 micrograms; why?
Is there a training that I can do that is compatible with the RRP course?
What will happen to me if my employee is poisoned and I don't have a respirator and worker protection plan in effect?
Is the EPA also enforcing this with OSHA?
There are more questions and concerns. We suggest that you learn about this requirement to protect your workers and your business.
New developments at OSHA
The residential construction industry is now a targeted industry. There is a new OSHA Fine and Penalty Structure. According to Safety Trainers Inc. an OSHA training company training in New England and New York, the new fine structure is $7,000 for serious offenses and $70,000 for willful violations. Fine reductions will be smaller and OSHA has hired more inspectors.
Solutions For The Residential Contractor
If you have former OSHA training you may find it straight forward to implement the OSHA Lead Standard into your business. If not here are two possible solutions;
1. You can call OSHA and have them come in and assist you with things like air monitoring, respirator and worker protection programs and other requirements. This service is free however there are some things to know. If they see other practices that conflict with OSHA practices or they see you are not following OSHA mandated practice they will let you know. Then you will be obligated to make and pay for those improvements within the prescribed time.
2. You can bring in an OSHA training consultant who can teach you how to comply and help you set up a respirator program, worker protection program, establish base line protocols and engineered controls, teach you about medical monitoring, blood testing and other related practices to help you comply with the OSHA Lead in Construction Standard.
I have set up a program with Safety Trainers, Inc specifically for RRP/OSHA Lead Standards and practices. We ran this training two weeks ago and taught contractors how to comply. After facilitating RRP training for over 3700 contractors this year I beleive this RRP/OSHA specific program is needed to help the industry.
Please write your comments or contact me if you need help with OSHA Lead in Costruction Standard compliance.