A residential contractor called us last week asking for help creating his OSHA E H & S safety manual and safety program. He said he is looking to work for Home Depot as a vendor. One requirement for consideration is he must have proof of a OSHA safety plan in place. This small contracting firm was unaware that residential firms need to comply with OSHA requirements. He said "I thought that was only for big commercial companies."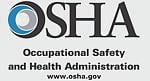 For more information on OSHA click picture.
We received another request for help developing a safety plan and E H & S Manual from a sub contractor working for a national builder. The builder now requires that their subs provide proof that they are compliant with OSHA.
Contractors are required to have safety plans and manuals in place to protect workers. Workers are any one who works on your site. This includes employees and sub contractors. Many sole proprietor general contractors think they only have to comply if they have employees. However OSHA says contractors need to protect workers including subs, and maintain a safe work site.
The residential construction industry is receiving a lot of attention from OSHA for the first time. Injuries on residential projects have increased and now OSHA has named the Residential Construction Industry as a target industry. This means they will now routinely visit residential projects in addition to commercial ones.
To be prepared for an OSHA visit make sure your safety practices are in compliance with their requirements and be able to show them documentation to that effect. Your safety plan and manual should include the descriptions of the hazards your work includes and how you will ensure a safe work site for your employees and subs. OSHA requires company specific written plans for many hazards.
For example OSHA is requiring that all contractors who work 6 feet above lower levels that they have a written fall protection plan in place by 9/15/2011.
Another example is OSHA requires that contractors who expose their employees to hazardous levels of lead have a written respiratory and medical monitoring plan in place. In Massachusetts this is required to qualify for a Certified Firm RRP Lead License.
For any help or questions about OSHA Safety Manuals and safety plan development contact Mark.