OSHA's intense focus and scrutiny of the residential construction industry reveals the lack of awareness and compliance amongst home improvement contractors, remodelers, builders and trades. Last year OSHA named the industry a target for enforcement and they said they will aggressively pursue contractors in this sector.
Residential contractors have never been in the cross hairs like the commercial sector. OSHA training, like OSHA 10 and 30, are usually mandated for commercial firms working on public projects. Residential contractors have not been required through enforcement to adopt the policies of the agency and have little or no experience of how to comply. The recent rash of injuries and deaths on residential work sites has led to this new focus.
Environmental Hazard and Safety Manual Development
OSHA requires that all businesses have documented safety procedures and policies in place for one or more employees. Since all industries are different and have hazards specific to their line of work, no standard template or single safety manual will cover everyone. OSHA requires that every business develop their own customized manual that documents and addresses hazards for employees working for that business. Your customized manual must address specific situations inherent in your business.
Safety Program
All contractors are required to have a safety program in place. Your manual needs to explain what the safety program is, what employees need to know and how the safety program is implemented.
How do I develop a safety manual for my company?
There are several options available to develop your own safety manual. The key is make sure you know what you are getting.
1. Go on line and search for a safety manual supplier. The cost is low and you can normally download the template. Then the work begins. You must go through every plan and template and customize it for your hazards in line with OSHA requirements. If you have the knowledge, time and patience this could be low on money spent but very high on the time you invest. Buyer Beware; Do not buy a template and let it stand as is for your manual. Any on line template must be customized by you! If not you will fail an OSHA inspection and likely be exposed to a fine.
2. Your insurance carrier may offer assistance in the development of a manual. They may bring in one of their resources to help you because you are their customer. Again the manual must be customized to your business.
3. Some payroll companies will provide a template manual. You must then customize it. Again like in number one above you will spend a lot of time and research on the customization.
4. You can invite OSHA to come to your business and they will do it for free through their outreach employees. If they come in and you are working to install a safety plan and manual you cannot be fined by the enforcement side of OSHA. However you will be required to meet all the needs to remove hazards right away. Many have said the wait is long. In addition, inviting government into your business may expose some things that are not up to par without you knowing any better. One common analogy about another government agency on why you should think twice about inviting OSHA into your business;
"Would you call the IRS to do your tax return?"
5. Hire an OSHA Safety Training Firm; To develop a safety program and manual many companies prefer to work directly with a private OSHA Safety Training company. This way you receive the guidance, counseling and coaching you need without having to invite government into your business. You will still need to comply with the OSHA standards however if it is discovered that you need to invest in equipment and training at least you can plan for it on your schedule.
Implementation of your safety program
The development of your manual will also cover what training is required for your workers. OSHA looks at employees and subs as workers and specific training requirements must be met. This general contractor is responsible to make sure that all subs follow OSHA standards while working on their job site. Your effective training will need to be documented.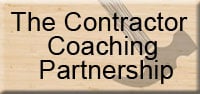 If you need assistance on deciding which way to go to develop your own customized Safety Manual and Safety Program contact me.
mark the coach
"one voice for the residential construction industry"