A new Renovate Right pamphlet has been released by the EPA. Certified Renovators will need to start using this new pamphlet. The only page that has changes is page number 10. These changes were made to clarify the cleaning verification process, lead dust testing and emphasize that homeowners can do their own testing.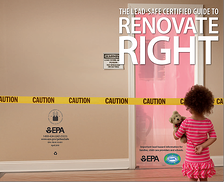 Haver you revised your contract for RRP jobs?
I recommend you read it carefully and make sure you are covered in your contract. Homeowners are reminded that they can test themselves or have third parties conduct lead dust sampling. If testing shows unacceptable levels of lead recleaning will be required. The question is who will pay for it, you or the homeowner.
Download your free copy here; docs/Reno Rgt Bro rev 7.15.2011.pdf
mark the coach