Contractors send me pictures every week of jobs with OSHA and RRP violations. As more contractors invest in the cost of OSHA and RRP compliance there is a strong inclination to report those who do not.
This contractor sent these pictures to me out of shear frustration. He told me he is and has invested in the OSHA fall protection training to make sure his workers are safe and that he is in compliance with the recent OSHA Fall Protection directive. He has instructed his subs that they need to become OSHA and RRP compliant to work on his jobs. He said he is sick and tired of seeing other contractors risk the safety of their workers and sell work without the costs of compliance.
Who is watching you? Will they drop the dime on you if they see you do not follow OSHA or EPA RRP protocols on your project? Can you afford the risk of facing OSHA fines?
Many contractors tell us in our trainings that they would never think of dropping a dime 2 or 3 years ago. However now with less work in the marketplace and the prospects of losing work to non compliant contractors they are changing their tune. One contractor told me this week at our OSHA Awareness seminar that he calls on RRP jobs and projects where there is improper staging. He said it is a matter of survival and what is right. He also would like to see OSHA and RRP officials do a better job at enforcing non compliant contractors. He went on to say homeowners should also be fined for hiring the underground companies.
Take a look at the following pictures and imagine all the OSHA violations that would be cited if and OSHA officer stopped by. The picture was taken in a Worcester County, Massachusetts town. The builder of this project is well known and builds homes in the $500,000 range and up. His name will be kept confidential.
The home is a two story colonial with a steep pitch. How many violations can you come up with? Please post them for others to see.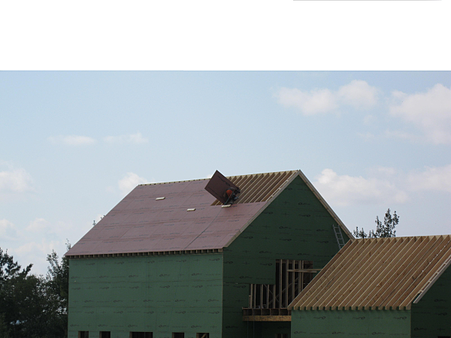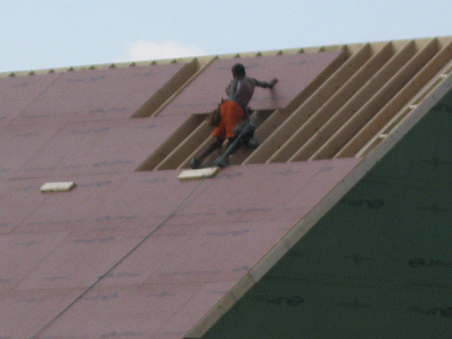 mark the coach
"one voice for the residential construction industry"