OSHA in New England is very active enforcing fall protection. Another Massachusetts contractor from Everett was hit for major fall protection violations. (Article links below) Last week we had several calls about OSHA visits and citations for fall protection violations south of Boston.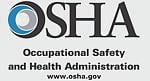 August 2011 Project in Mass with violations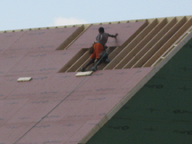 The New OSHA Fall Protection Directive became effective on 9/16/2011. OSHA has announced that they will be vigorously enforcing this especially in Region 1 (New England). The contractor in the picture above was photographed in August. This is a new 2 story house in the Northborough, Mass area. No staging at the roof edge so the workers left out some sheathing and accessed the roof from the attic and used a couple of two by four cleats. What do you think about that for fall protection? Do you or your subs take chances like this?
Contractors who have not been trained on the new directive are at great risk if OSHA stops at their job site and catches them without a written plan and not using guard rails, safety nets or fall arrest systems. For guidance and more information on how to protect your employees and business we have a customized fall protection training program for contractors. The training is also approved for 3 CEU credits towards the new Mass CSL education requirement.
Fall Protection Training Courses
November 01, 2011 10:37 AM
PORTSMOUTH — The U.S. Department of Labor's Occupational Safety and Health Administration cited Twin Pines Construction Inc./Teles Construction Inc. for alleged repeat, serious and other-than-serious violations of workplace safety standards following an inspection of a work site at 51 Islington St.
The Everett, Mass., framing contractor faces a total of $180,100 in proposed fines, chiefly for fall, scaffolding and electrical hazards.
The inspection was opened after an OSHA inspector observed an employee working without fall protection at the fifth-floor level of a building under construction at 51 Islington St. That site is the mixed use development at the site of the former Kline's Furniture.
The inspection found a lack of fall protection for employees working on scaffolding and work surfaces at heights of up to 57 feet. An additional fall hazard stemmed from the use of a 6-foot ladder to access a 10-foot-high surface. Employees also were exposed to electric shocks and burns from using ungrounded electrical extension cords.
Between 2008 and 2010, Twin Pines/Teles was cited for similar hazards at work sites in Scarborough, Maine; Newbury and Salisbury, Mass.; and North Kingstown and South Kingstown, R.I. As a result of this history, OSHA issued citations for four repeat violations with $130,500 in proposed penalties.
"The sizable fines proposed here reflect both the gravity of these hazards and this employer's significant and continuing history of safety violations," said Rosemarie Ohar, OSHA's New Hampshire area director. "Each time it allows these hazards to recur, it exposes employees to the risk of death or disabling injuries."
Additionally, eight serious violations with $46,300 in fines involved improperly erected scaffolding; no inspection by a competent person with the knowledge and authority to identify and correct scaffolding hazards; uncovered floor holes; failure to keep the fifth-floor work area, as well as areas around the top and bottom of ladders, free of construction debris; and lack of eye protection for employees using nail guns. A serious violation occurs when there is substantial probability that death or serious physical harm could result from a hazard about which the employer knew or should have known.
News article link;
http://www.seacoastonline.com/articles/20111101-NEWS-111109985
OSHA citation press release
http://www.osha.gov/ooc/citations/Twin_Pines_Construction_Inc_29320_1021_11.pdf
Now may be a good time to think about your OSHA safety program.
"one voice for the residential construction industry"