A New Hampshire construction company has been fined for the death of a worker who fell from scaffolding. The planking the worker was working on snapped and he plunged to his death. The worker, Steven Sawyer was employed by MacMillin Co, Inc.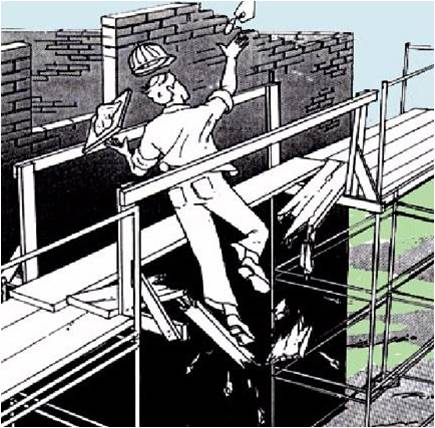 OSHA cited the contractor for the following willful violations;
Scaffolding not inspected for defects
Employees not adequately trained in the erection and inspection of scaffolding
The employer did not determine the feasibility of or ensure the use of fall protection for employees during the scaffold erection
OSHA also cited MacMillin Co, Inc for these serious violations;
The scaffold planks could not support four times their maximum allowable load as required
all of the scaffold's supporting legs were not set on base plates
Scaffold planks were covered with paint
Employees were not adequately supervised during the scaffold erection
The

OSHA Regional News Release

also states that the contractor was using temporary workers on the job site.
In the

OSHA Citation and Notification of Penalty

the fines amounts are listed by violation.
Citation 2 Item 1 Willfill-Serious $50,400

Citation 2 Item 2 Willful-Serious $50,400

Citation 2 Item 3 Willful-Serious $50,400

Citation 1 Item 1 Serious $4410

Citation 1 Item 2 Serious $4410

Citation 1 Item 3 Serious $3150

Citation 1 Item 4 Serious $4410
The total amount of assessed fines is $167,580.00. You can view the invoice on page 10 of the citation that follows;
http://www.osha.gov/ooc/citations/TheMacMillinCompanyInc.pdf
No money is enough for the life of Mr Sawyer however the amount will surely make MacMillan Co, Inc think about future projects and the safety of their workers.
Fall Protection Training in English, Spanish and Portuguese that goes on the road
Training workers on fall protection, scaffolding and ladders is required under the OSHA Standards. Fall Protection training is not that difficult. We are available for fall protection training any where in the Northeast. We can come to your company, your association, your supplier, lumberyard or group. The Certified training can be provided in English, Spanish and Portuguese. Contact us or forward this to someone you know who hasn't completed fall protection training.