EPA RRP enforcement inspectors manned a booth at the Remodeling Show in Baltimore this week. Dave Merrick (Chairman of Government Affairs for NARI) and I spoke with them about their role in enforcing the EPA RRP Law.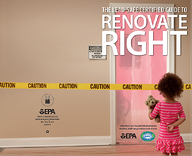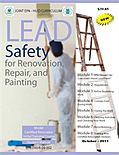 In our discussion we learned that the EPA has outsourced some enforcement in Region 3 to SSAI and their Senior Environmental Employment Program 1650 Arch St in Philadelphia, Pa. On the business card their is a statement "Assisting the Environmental Protection Agency under a Cooperative Agreement with the SSAI. The inspectors we spoke with said they were inspecting contractors in the Region 3 area.
Job description for inspectors from the SEE website:
SSAI Senior Environmental Employment Program has one opening at the US EPA Office in the Philadelphia, PA office.
Job description for inspectors from the SEE website:
Duties

include:
Conduct inspections under the TSCA Law and associated regulations to enforce the EPA Renovation, Repair and Painting Regulation. Prepare inspection reports, review and collect evidence for enforcement case. Input and maintain written/electronic inspection data. Provide outreach and compliance assistance to the regulated community and general public. Respond to written and electronic inquiries.
Requirements:
Must be able to pass Federal Background Check. Age 55+ BA/BS degree or minimum 3-5-yrs related experience working in either the Environmental Field/Sciences, Compliance Investigator/Inspector/Enforcement Officer, Law Enforcement, Construction, Licensing and Permitting/Auditor.
The gentleman we met said the SEE Program hires inspectors over the age or 55. We found the inspectors knowledgeable about RRP and two of the gentleman were former residential contractors. We asked what do they look for when inspecting? We also asked do you only look for paperwork or do do you also observe the work practices? One inspector said he looks at everything from paperwork to evidence of compliance that the work practices are followed. The inspectors are asking for records going back as far as 4/22/2010. In addition one inspector said he is checking to see if the sub contractors on a project are Certified Firms.
He described that he would notify a company he is there to inspect the paperwork and asks to see the files. Then he would go through the entire file looking for evidence of compliance. I was surprised to hear him say he was also looking for sub contractor information on each file. He said he needs to make sure the sub contractors on each job are in compliance. He said a few companies have excellent paperwork and documentation systems in place allowing for a smooth inspection. However he finds that most contractors that have not developed or implemented a record keeping system are harder to inspect.
Common

documents

they are looking for are:
Certified Firm Certificate
Assigned Certified Renovator Certificate
Proof that the Renovate Right Pamphlet was presented or delivered
Checklist of work practices used on the project
One inspector reported that he is visiting on average 6 to 10 contractors a week. I asked him if there was any way we could view official results from the inspections. He said he does his inspection and then turns the paperwork in to the EPA. Subsequent actions are handled internally by the EPA. I asked if he knew if any of his inspections have resulted in citations and he said any inquiries are handled by EPA officials.
I asked him how he decides who to inspect and was told calls come in everyday on the EPA tip hot line. The inspector also added that he likes to call upon large companies with many jobs and sub contractors like the Big Box Stores and large window companies. This way they can quickly gain access to many contractors and subs to conduct multiple inspections.