Managing change orders starts when the contract is signed. It is helpful to have your process and terms addressed in a clause in your contract. If you clearly explain your process to the homeowner upfront it can prevent misunderstandings and ensure that you are paid for what you do. The key idea is Memorialize (put in writing) all the work you do.
There are two types of work orders that result in work not in the contract. They are typically scope developed, estimated, written and presented to the homeowner by the Production Department in your business. It is helpful to use a check list when preparing a work order.
Download your Additional Work/Change Order Check List Located in Left Column.
It is very easy to purchase a template form in 3 part and have your company information printed on top. I have provided a few examples for you below.
Sample Additional Work Form From NEBS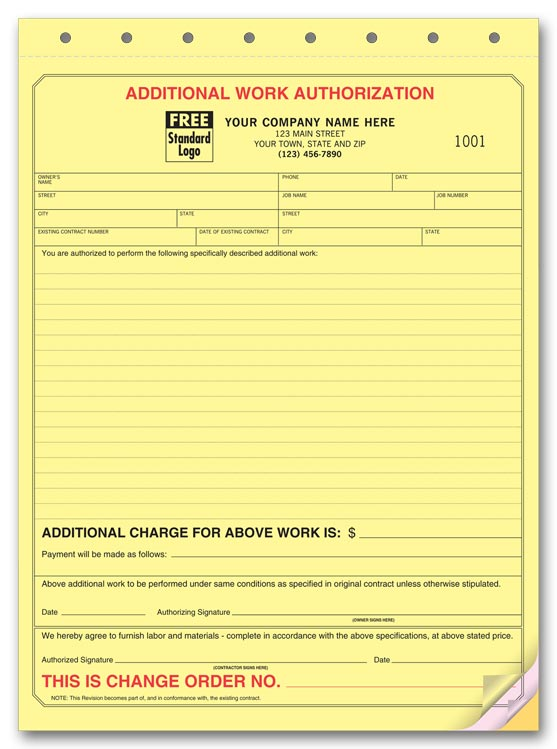 Additional Work Orders (AWO): These are changes that are generated by the owner, not the contractor. You know what happens during the project, consumers are afflicted with "While You Are Here Itus". This causes you in the role of the

lead carpenter

to stop what you are doing to discuss, scope, estimate and write the new work order. If the owner accepts the order, obtain their signature and payment in full before you schedule the work. If they do not go forward with the order and make sure you charge for your time to stop doing what you are doing.

(Production Business Workshop)

Don't be an

unpaid consultant

: Insert a clause in your contract that says you will charge for time to figure an AWO even if the homeowner elects not to do it. Whenever the homeowner starts asking for more work train yourself and your lead carpenters to say to the homeowner should I get my Additional Work Order form out? This trains the homeowner to only ask for things they really want and cuts down on wasted time.
Change Order (CO): this is a work order that is generated because of unforeseen conditions. The homeowner and contractor could not have reasonably seen the condition at time of contract. For example: hidden insect damage, mold, faulty wiring, joists cut out by plumber for waste pipe requiring new or sistered joists or unsuitable soil and large rocks.
Change Order Form From NEBS can be customized with your company information.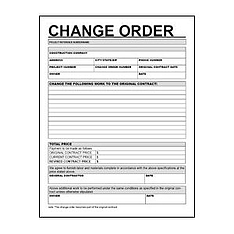 Other helpful tips when memorializing your Additional Work Orders and Change Orders
Each time you do the change order add the number of days that the order will take to complete to the project schedule. Keep a running tally so that when the homeowner says you are going over schedule you can point to the AWO's they requested and CO's that occurred.
Also make sure each work order tally's the increase or decrease in the contract amount. Trying to collect AWO's and CO's at the end of the job can cause heated discussions and possible failure to collect.
What is your additional work/change order policy?
Consider developing and writing a clear description of your process and insert into your contract. Implement your process and train your personnel so you can reduce profit loss and misuinderstandings on your projects. If you need assistance we can help.
P.S. Contractor Business Success Program and Workshops (CEU approved) start on 2/5/2013 at National Lumber for Contractor Business Owners.