Sales workshop for remodeling contractors:
Smart Selling for Tough Times with Shawn McCadden and The Contractor Coaching Partnership Inc. (2 CEU's)
Remodeling Contractors are raving about the Contractor Business Success Program we are currently running at National Lumber. So far we had workshops on Small Business Finances, Marketing and Strategic Estimating and Proposal Development. One remodeler shared "I love the way you share the information and in a straight forward way. Great topics that are easy to implement." Another said the tools and spreadsheets will help me run my business better."
Sharpening Your Sales Skills To Win More Profitable Jobs
In our upcoming 5th workshop on 3/12/13 we will teach remodelers how to create a better selling strategy to improve their sales results.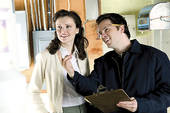 Seats are available for this workshop. Click the button and register for this single workshop if you are looking to sharpen your sales skills improve your sales results.
Other topics we will teach:
Learn how to use and customize a lead sheet to prequalify your prospects. (Free lead form provided in word format)
Learn how you can shorten your slaes cycle and close more leads.
Learn how to help your prospect discover why they need to share their budget with you.
Learn the three things every remodeler must know about the prospect before offering solutions or a price.
Learn how to use effective questions to improve your sales results
Experience role playing with coaches Shawn McCadden, Mark Paskell and other remodelers.
By attending this workshop you will aquire strategies and tactics that you can use in your business right away.
With consumers starting to come out of their shell many remodelers are inundated with leads for remodeling work. This is the perfect time to sharpen your sales approach to win jobs.
Remodelers can sign up for this individual workshop by clicking the button and selecting workshop number 5 Smart Seliing for Tough Times.
Lumberyards and Material Suppliers: if you think these topics would be valuable for your contractors clients contact us to set up a special seminar sponsored by you.