Imminent Danger in Southboro, Ma: Workers exposed to serious injury or death from fall hazards.
A contractor who was trained in our fall protection class sent me these pictures yesterday showing workers exposed to fall hazards while working on a condominium project in Southboro, Ma. These men are exposed to an imminent danger condition. They are not tied off with harnesses and there are no guard rails. The planks look like framiing lumber not scaffold grade.
Contractors are required to protect workers exposed to fall hazards 6 feet or more above a lower level. The height here is three stories!
The job was reported to OSHA as an imminent danger condition. Many contractors who follow the OSHA Fall Protection rules are now reporting jobs like these to OSHA.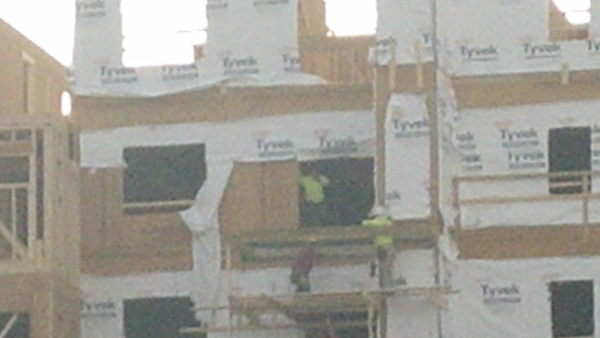 Contractors who allow conditions like this on their projects run the risk of someone being killed or injured. When OSHA sees jobs like this they conduct a site audit and usually issue citations and fines to the employers responsible for safety on the project. The contractor reporting this job said he could not just ride by and ignore these conditions without taking action. He said someone could end up dead.
OSHA Fall Protection Directive is in full effect as of 3/15/2013
The OSHA Fall Protection temporary enforcement extension ended on 3/15/2013. This means that all contractors who work at heights of 6 feet or more above a lower level must be on board with OSHA Standard Subpart M. In addition OSHA Subpart L (Scaffolding) and Subpart X (Stairs and Ladders) need to be followed. Here is a brief overview of what contractors must do to protect their workers:
(Note: Contractors need to make sure that the subs also work safe on their projects. This is done by requiring that subs provide proof of trained workers and certifications for their workers.)
Use conventional fall protections: Fall protection systems, guard rails and safety nets.
Written plans where needed
Must have a training program. Workers must be trained before they are exposed to hazards on how to recognize hazards, how to use fall protection equipment, how to erect and dismantle safety equipment and how to work safely using the employer provided protective equipment.
Must certify the training and maintain a copy of the certifications.
Must make sure the training is effective by observing the workers while working at heights 6 feet or more above lower levels.
Questions about how to get up to speed on fall protection contact Mark.