Region 1 OSHA has revised the Local Emphasis Program (LEP) on Fall Hazards. The original end date was 9/30/2015. The revised date is now 9/30/2013. This affects contractors in Mass, NH, RI, CT, ME.
In addition FYI there is another Region 1 LEP for Residential Construction. I will write about that later this week.
What it means for residential contractor job sites?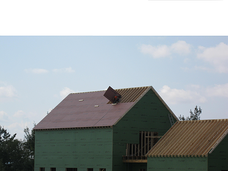 First a Local Emphasis Program is written by OSHA specifically for Regions and Industries that have an abnormal amount of injuries and deaths. Most contractors know about the National emphasis on Fall Protection because it has been posted on the Home Page of OSHA for over a year. In New England states we have an overlapping focus from OSHA where CHSO's are given instruction to stop by any construction site where people are working on elevated surfaces. Then they are required to enforce if there are noticeable violations. This coincides with the numerous reports from Massachusetts and Connecticut contractors who have had OSHA stop by their job sites.
For contractors working on any house OSHA CSHOs want to see evidence that you are complying with the fall protection requirements.
Job site example: Ranch house where you are doing the roof and siding. 5 pitch roof with skylights and you are using nail guns. Here is what you must have in order for them not to come in an cite you:
Conventional Fall Protection; all people on the roof are using fall protection systems such as harnesses with anchor points and life lines, guard rails and or safety nets. If you are using full body harnesses you do not need guard rails or safety nets. If your employees or subs do not have harnesses then you must have guard rails at the eave and up the rakes.
Hard hats: protection from using a tool that can create a projectile and falling objects
Safety glasses; protection from using a tool that can create a projectile and saws cutting siding.
Good housekeeping; job is orderly, neat and clean with no trip hazards
Covers over the skylights; skylights are considered holes and must be covered or have a guard rail around them.
Ladders are set at the right angle and are 3 feet above the access area
If this is what the OSHA officer sees when he goes by your job site you are probably fine. If not then you will be paid a visit and the citations and fines will follow. Also if any of the above are violated they will likely cite you for not having a training program. A contractor in our Ring's End Lumber Fall Protection Training was fined $12,000.00 for not having a fall protection training program. They stopped because no one was wearing a harness. The contractor is now working on his safety plan/manual.
Following are the instuctions from the OSHA Region 1 Regional administrator that a Compliance Safety and Health Officer (CSHO) must follow when he/she rides by a residential construction site:
A. Compliance Safety and Health Officers (CSHOs) shall, while traveling during the course of their work-day, be watchful for employees, working at elevations greater than ten feet (scaffolding standard Subpart L is 10 feet, Subpart M standard is 6 feet) above the lower level, and who appear to be unprotected from the hazard of falling to the lower level. Compliance officers seeing such exposures shall attempt to contact the area office either to obtain supervisory authorization to begin an immediate inspection; or, in cases where the CSHO is unable to begin an immediate inspection, to notify the area office of the CSHO's observations. Supervisory approval to start the inspection will normally be granted to the CSHO provided that this inspection activity does not conflict with higher priority inspection activity, and provided that the CSHO has the necessary expertise and equipment to conduct the inspection.
B. If the CSHO has no readily available means to contact the area office, or is otherwise unable to reach area office personnel who can authorize the inspection, the CSHO will begin an immediate limited scope inspection provided this activity will not interfere with higher priority inspections or assignments. In these cases, the CSHO will give highest priority to preventing further employee exposure to the fall hazards observed.
Fall Protection Standards to follow to protect your workers and be in compliance with if a CHSO goes by your site: