A contractor's worker fell a few weeks ago from a ladder and landed square on his back. Thankfully the earth was recently backfilled and soft and the worker suffered scrapes and bruises, no broken back or bones. The worker only missed a few days of work after the fall. His injuries were relatively minor, this time.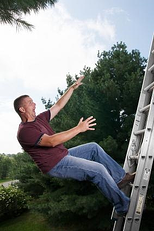 Owner injury, sleepless nights, worry and anxiety, concerned about workers' safety
There was another injury that day, the owner. The injury was not physical it was mental. The contractor worried for several days about how and why did this happen? They believe in working safe so how this could this happen on their job? They went through safety training a few years ago and even had a safety manual created. They did some training a few years back so what went wrong?
The contractor said that they have not been spending the time to check each job at the start of their day. The business is doing well and time is precious and somehow safety has not been the focus like it was in the past. Fast forward to today and the contractor has a new perspective. The recent worker fall has created a new reality that the current safety focus is lacking.
The contractor used to follow their safety manual and do Job Hazard Assessments everyday for each job. The owner used to do random site visits to ensure that safety was top of mind on their projects. However the former habits slowly disappeared and became less important. complacency, apathy and laziness have replaced the former prudent habit of thinking safety first.
The contractor has decided to enroll all workers in fall protection training. The prospects of telling a workers' wife that he is severely injured or dead, because the company wasn't focusing on safety anymore is not a possibility the owner wants to allow.
SAFETY CULTURE AT YOUR COMPANY?
How is the safety culture at your company? It only takes a couple of seconds to fall 30 feet. Do your workers take a few minutes to assess the job site hazards before they start work? Is your team routinely discussing safety on your projects? Are they wearing their fall protection equipment? Are they making sure their ladders are set properly?
Most contractors and you know if your company is working safe or not. The question is if you know your workers are at risk are you willing to let it continue? The contractor in this article told me they could not stand by and ignore the lack of a safety consciousness anymore. It took the fall of an employee to wake them up. The contractor said " the fall was a wake up call that I cannot ignore. Unfortuantley most of us never do anything about safety until something happens."
To help prevent injuries and create a safety culture owners need to be consistently vigilant promoting the concept of safety. It only takes a few seconds for an injury that can alter a workers and companys' life forever.
One solution is to adopt an industry best practice of developing a safety program with training, written plans and a safety manual. Then implementing the program and conducting regularly scheduled safety huddles (tool box talks) for every project. Huddles run right only take 15 or 20 minutes and most importantly encourage a safety culture that will protect your people.
Contact me if you want to talk about how to bring a safety culture to your company. Be safe.