A roofer from Bridgeport CT was killed from a fall while working on a roof in Westport Ct. According to posts from a Channel 12 story the roofer was working at Overlook Dr in Westport. It states OSHA is investigating. Subsequent posts reveal that the name of the person is Walter Pani and he was working for Primrose Co Inc 1425 Noble Av in Bridgeport CT. 06610. The report states that the roofing contractor was in his 20's and leaves a wife and two children. I spoke with a person at the Primrose office today and he said the worker was a subcontractor.
OSHA Fall Protection Training 6/13/2013 at Ring's End Lumber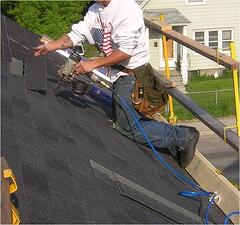 Roofer working with guard rails.
OSHA has fall protection standards and rules that employers must train and protect their workers when working on heights of 6 feet or more above lower levels. If this worker was wearing a fall protection system with harness or had guard rails up he may still be alive today. Next week in our Fall Protection Training at Ring's End Lumber in Stratford CT we will discuss this tragic event and how to prevent fall accidents especially working on residential construction sites.
Here is the link to the article.
Bridgeport, CT roofer with no fall protection killed in Westport, CT
Claims that the contractor tried to manipulate the facts, if true, may pose serious liability to the contractor.

Another post to the article claims that the roofer was undocumented and was treated inhumanely by the employer. Here is the exact wording from the post to a Channel 12 article.
"Today I've officially became the Angriest American citizen in this country. Yesterday morning a construction worker of PRIMROSE CONSTRUCTION COMPANY In Bridgeport was doing a roofing job in Westport, Connecticut. Unfortunately the construction worker slipped from the roof and landed on rocks which led to his fatal death. His co-workers instead of calling 911, they decided to call the head of the company to ask what to do with the body. Their superior told them to "MOVE THE BODY TO THE STREET SO PEOPLE WILL THINK HE GOT RAN OVER BY A CAR".
THIS IS THE REAL STORY THE SO CALLED "NEWS" HAS NOT BEEN TELLING. This company doesn't want to take any responsibility for his worker. WALTER PANI IS LEAVING HIS 2 AMERICAN CHILDREN ALONE. All im asking is for the Real NEWS to be aired. For this company to take RESPONSIBILITY FOR THEIR WORKER DEATH. "

Falls are the leading cause of deaths in construction. There have been numerous injuries and deaths from falls in Region 1 OSHA over the past three years. Currently OSHA in New England is very agressively enforcing the residential construction industry. The Regional Emphasis Program on Fall Hazards is in effect until October of 2013. We suspect it will be extended again due to the large amount of fall deaths and injuries in the states of Connecticut, Massachusetts, New Hampshire and Rhode Island.
What contractors need to do...Compliance with OSHA Subpart M, L (Scaffolding), and X (Stairs and Ladders).
Make sure that all workers on your job sites are protected when working at elevation of 6 feet or more above a lower level. This includes your employees and subs. DO NOT let subs work on your jobsites unless they provide proof of fall protection training, written plans and copies of the certifications of the workers they will have on your site. Otherwise if something happens the general contractor can also be cited and fined.
The employer must provide fall protection training, equipment, certify training, written training program and plan and more.
We can help you train your workers and train your subs to get them on board. Private and lumberyard trainings can be scheduled. Contact Mark.