OSHA Fall Protection fines and citations are popping up everyday in many states. The frequency and size of the fines is evidence that OSHA is taking fall protection very seriously. I spoke at three OSHA Fall Protection outreach sessions with Region 1 OSHA inspectors last week and I can attest to the fact that they are on the lookout for one thing from residential contractors: Visible evidence of fall protection on the job site. If there is none they are coming in and they are citing and then fining.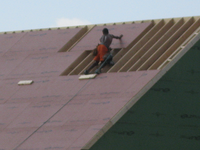 When is the residential construction industry going to wake up and realize that failure to use fall protection is only going to lead to injuries, deaths and huge fines?
I did a Fall Protection training on Monday and several of the contractors in the class were there because either they were visited by OSHA recently or know someone who was. There seems to be an attitude amongst contractors that this is not a big deal until OSHA pays their job site a visit. Waiting to comply with the OSHA fall protection requirements until OSHA shows up on your site seems to be a common attitude with contractors. Unfortunately this apathetic attitude leads to unsafe conditions, injuries and deaths.
OSHA reports show that the number one cited offense in the country is fall protection in the residential industry. To avoid injuries, deaths, fines, citations and keep your people safe get trained on fall protection and implement the training into your work.
If you doubt OSHA is hitting hard just take a look at press releases from this week.
US Department of Labor's OSHA cites Idaho homebuilder for willfully
exposing workers to fall hazards
TKO Custom Homes in Twin Falls faces $27,600 in fines
Watertown, NY, general construction company cited by US Labor
Department's OSHA for 'entirely preventable' fatal fall at Pulaski work site
Conn. contractor cited by US Labor Department's OSHA
for wall collapse, fall hazards at construction work site
Cesar Mendoza, d.b.a. KI Management, faces more than $190,000 in proposed fines
Bennett Building Systems cited by US Department of Labor's OSHA for not
protecting workers from dangerous falls
Workers exposed to fall hazards at reo sidential construction site in Hegins, Pa.
Custom Valley Builders LLC fined $33,200 by US Department of Labor's OSHA
I am thinking that residential contractors will be the main focus for OSHA for years to come due to the amount injuries, deaths, apathy and lack of OSHA knowledge. the above enforcement actions should be proof enough for contractors to get on board before it is tool costly or too late.