A few weeks ago Chris Pierce wrote me about his recent long and painful recovery from a fall of a ladder.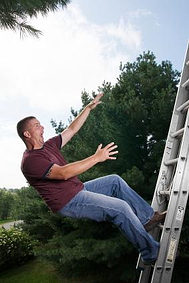 My first thought was thank God he was alive. Then in a subsequent note he told me he had two friends who were also in a fall accident. One broke his neck falling through a skylight and one was killed after falling 170 feet working on power lines on Cape Cod. I wrote back I am speechless and do not know what to say.
Really what does one say when life altering fall accidents wreak havoc on three who knew each other. No doubt, this is a really sad time for these families but these accidents could have been prevented.
Could these accidents have been prevented?
Falling through the skylight could have been prevented if the skylight was covered or if a guard rail was set up around it. OSHA requires contractors to cover holes and skylights prior to working around them.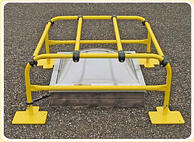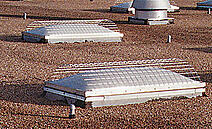 The lineman working on the Cape was in a lift that tipped over. If you click on the article link from the Boston Globe you will see a picture with a tipped over bucket truck surrounded by loose sand. The article says they are not sure how it tipped over however the picture is suggestive that unstable ground may be a cause.
With Chris's permission, I will share his written story with you. Chris is a contractor just like you and he was not planning on getting hurt that day. My hope is that it will spur you to think about the hazards that you and your workers face on your job sites. Then take the time to assess the work site, plan the work before you do it, train your people and use the right equipment.
Story From Chris Pierce....
"After falling and breaking everything from my knee down and being out of work for the last 10 weeks and not knowing when i will walk again, I agree totally with all the fall protections that we should take. With me included three guys that i personally know have fallen,one a close family friend since he was a child died a month ago.The other in a halo with his neck broken from a 15ft fall.This should be mandatory for all of us that work in the trades We should all remember we have people waiting for us at home.
Second response from Chris Pierce after I asked him about the others and the details of the falls...
John Loughran, was the guy in the bucket truck on the Cape he and another were lineman who they fell to their deaths. My fall injury was while a ladder on plywood, the bottom slipped across a plywood deck I came straight down 10/12 feet and broke every thing from my knee down. I had steel plates and bolts put into my foot and leg, two surgeries and almost three months out of work.
Last, was Paul Ridge he fell 15 feet down through a skylight broke his neck but is alive he lives here in Pembroke, Ma.
Three guys I know I'm not sure if any thing could be done with John they were fully extended in the bucket working. He was a close family friend. I was lying with my foot in a metal fixture waiting to get surgery and the news came on, then the calls came in that he died.
Mark there are a lot of guys falling and I'm not sure if its from having to do it faster for less money or what. But I do know that the three of us didn't need to fall. I don't really know how you stop it. But I know that after you come down the pain is unreal. Then you wake up your in a hospital not knowing what'ss going on. Then you realize that your screwed because you work check to check and your family is at home waiting for you. I was lowered down by the firefighters in a basket after the EMT's stabilized my neck and body. Mark I worked safe had a harness on when we were on the roof. I read the OSHA book we got GFI's on our splitters, nail guns looked at, replaced cords, everything.
When the ladder went down, I went too. It has been devastating I can not walk I'm in a bed a good part of the day. I spent 8 weeks just with my foot up.
If you can reach other Carpenters and Trades to get them on board with OSHA and one guy stops and says I'm not doing it because of us three. its worth it.
Also, I'm no saint and I have done every thing wrong most of my life. But after 25 years of doing it wrong I changed and your class helped me with that. The OSHA topic was a small part of that class but it hit home. The first time ever in my life being hurt, not only hurt, but if you broke something the way I did its just about the worst way you could do it.
Mark, good luck I hope these guys listen because it's a hard road back after a fall. It's no joke and I am living it. Chris Pierce."
Paul Ridge Charity; If you wish to donate to a fellow contractor who has been seriously hurt here is the link for Paul Ridge Charity; https://www.sharingcounts.com/campaigns/362?donation_page=3