The saying "out of sight and out of mind" applies to many contractors who choose not to follow OSHA rules. Many contractors tell me they are not too concerned with OSHA stating "we will worry about compliance when we are visited. In a recent post I reported that most of the contractors in our
fall protection
trainings were only there because they were cited and fined.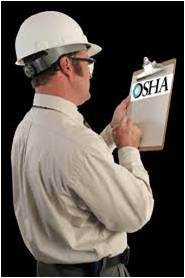 This got me thinking;What will happen to your business if you are cited and fined by OSHA? Can your business really afford a fine? Will there be other costs as a result of an unplanned job site inspection? Will the fines and auxiliary costs come at the worse possible time and impact your ability to pay your bills?
OSHA Fines and additional costs; in addition to fines there are other costs associated with compliance. The fines and associated costs can run into the tens of thousands.
When OSHA comes to your site they look at everything in view. On average contractors end up with 3 or more fines when OSHA visits. On rare occasions you may end up with only one fine if you handle the safety inspection well and you are willing to do the right thing to rectify the situation. The following list describes costs contractors incur after they are cited and fined.
OSHA fines (first time); Serious fines can be levied up to $7,000.00 and Willful fines can be up to $70,000.00. Looking at many recent fines it is quite common to be issued a $2800.00 fine for each serious violation. Willful fines are often levied between $30,000.00 and $40,000.00. Looking at the OSHA enforcement website one can see that fines are often settled for 50% of the initial amount. With three or more fines you can figure at least $5-10,000.00 for first time offenses after negotiation and an agreement to become compliant.
Repeat offenses; if a contractor is cited and fined for the same offense within 5 years OSHA can issue a Repeat Violation fine up to $70,000.00. Negotiated at 50% is $35,000.00.
Equipment; when fined by OSHA contractors usually do not have the appropriate personal protective equipment. In order to show OSHA that you are serious about complying you go out and purchase thousands of dollars worth of equipment. The money comes right out of your operating capital often at the worse possible time.
Training; contractors are who fined typically have not trained their employees per the standards. In order to show OSHA that you are serious about complying and negotiating lower fine amounts you tell OSHA you are setting up training for your employees. You incur costs for the training, paying them while they are being trained and lost production time.
Safety Program, Safety Manuals and Written Plans; OSHA requires that all contractors have a written safety program in place for the company employees. This is accomplished by having a written safety plan, safety manual and written plans. Costs for these items vary greatly. Contractors with significant commercial experience may be equipped with the knowledge to undertake this on their own. Those without this experience are usually better served to outsource manuals, written plans and safety programs to safety professionals.
Training program and documentation of training; OSHA requires that contractors train their workers before they are exposed to hazards. This requires a training programs that provides certified training for employees and the training must be certified and documented. A record keeping process needs to be set up to maintain the records in case OSHA requests them.
Owner's and staffs' time to deal with safety compliance issues; A fine by OSHA rattles your world causing you to assess your situation. You realize the costs for non-compliance are steep and now you need to learn what you are responsible for to comply with OSHA requirements. The cost is your time and often runs into the thousands over the course of a year or two.
Workmens Comp Insurance; if someone is unfortunately hurt you incur additional costs for workmens' compensation and your modification factor goes up for everyone on your payroll.
General Liability Insurance; insurance companies are on the lookout for contractors who pose an insurance risk. Underwriters check the OSHA website to see if contractors have been cited and fined by OSHA. When they discover that you have been fined they look into the matter to determine your eligibility for insurance. If they will still write your policy they usually increase the premium amount in your next cycle.
Loss of future business; when contractors are fined the event is published on the OSHA website. This information often shows up in Google search results when a homeowner is checking you out. Some homeowners may disqualify you if they find out your are an unsafe contractor as they do not want to have an accident on their job site. This can cost you thousands of dollars in future business.
After reading this post you are likely thinking about what would it look like and cost if your job site was visited by OSHA tomorrow.
Is it a risk worth taking?
If the answer is no please begin to look at your company safety performance and program. If there isn't one start building one as soon as possible. Your focus on safety may save a life, prevent an injury and lessen the risk that you have to pay thousands of dollars for OSHA fines.
Lastly, pro actively undertaking a safety program allows you to plan your investment in safety. The reactive approach is bound to cost you thousands at the worse possible time and may even threaten the financial well being of your business.
If you need help contact me.