Last week while helping a client with his OSHA fine for fall protection violations an OSHA representative told me heavy scrutiny will continue on the residential construction industry. I learned that the Local Emphasis Program in Region 1 on Fall Protection will continue. I talk about this in our fall protection trainings hoping to alert contractors that they need to use fall protection when working at heights 6 feet or more above a lower level.
You may be wondering what is a Local Emphasis Program (LEP)?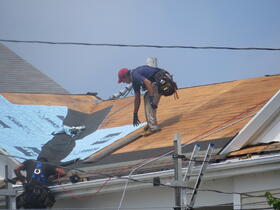 Here is how it works...OSHA has limited resources and they must decide where they will focus both educational outreach and enforcement efforts. Using hard data and statistics from injury reports and deaths, OSHA plans their outreach and enforcement effort in the regions and industries where there is the most accidents.
In this picture taken by a Massachusetts contractor riding by, there is a harness but he is not tied off. This is considered imminent danger.
Again this past year shows that there are too many reported injuries and deaths in residential construction. Region 1 (Mass, New Hampshire, Maine, Rhode Island and Connecticut) continues to produce very high rates of injuries and deaths with falls from upper levels and ladders leading the way.
The LEP in New England is on top of the National Emphasis Programs (NEP) for fall hazards and residential construction. With both national and local focus the scrutiny on residential contractors is intense.
The Region 1 LEP on fall protection requires CHSO's to quickly address fall protection complaints, referrals and imminent danger observations when driving by a site. This is stated clearly in the public document .
The following picture shows a man on scaffolding with no guard rails or fall protection over 10 feet. This is considered imminent danger and a CSHO would be required to stop and audit the job right away.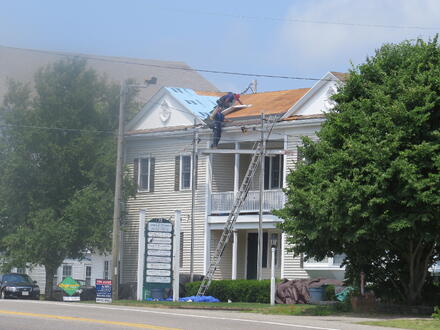 In last week's conversation with OSHA he said that the problem is so pervasive that they have lots of repeat customers. These are repeat contractor customers who are frequent offenders of not working safe while up on heights. He said some of them are arguing that they will never where fall protection. This attitude is bad for all in residential construction because it leads to more vigorous scrutiny.
Here are a couple Fall Protection Trainings scheduled in Massachusetts;
Waltham Harvey Building Products 10/29/2014
Waltham Harvey Building Products 11/19/2014