The recent February storms and cold spell in Massachusetts has caused thousands of storm damage insurance claims. Once the snow and ice give way to spring and the claims are settled, contractors will start the renovations to repair these homes. Much of the work will involve working up on roofs and sides of homes where contractors will use various forms of ladders and staging.
Why an OSHA Storm on Residential Home Builders, Remodelers and Trades?
Given the recent publicized falls from upper elevations, through skylights and off of roofs OSHA will be on the lookout for fall protection compliance. We have had several reports of men being told to get off of roofs because they had no fall protection set up on both residential and commercial buildings.
Last week someone from OSHA asked me to send out word about the dangers of working without protection and hiring workers under 18. Last time I was asked like this there was an increase in scrutiny of residential projects in the following months.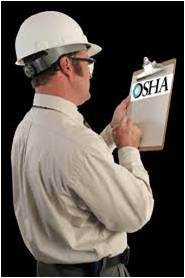 OSHA CSHO's have authority to conduct audits under the OSHA Act and two current Local Enforcement Programs. LEP's are issued by OSHA to focus on specific industry groups. These LEPS designate and target residential builders, remodelers and trades.
LEP For Fall Protection in Region 1, New England; this Local Emphasis Program has been renewed for the fifth year. It states that the CSHO is required to investigate imminent danger conditions right away. The directive is focused on works sites where there are workers on elevated levels. All those working up on heights must be using conventional fall protection. Example; 4 men working on Split Level Ranch 12 feet of the ground must be protected by guard rails or fall protection systems. No harnesses or guard rails, the CSHO is coming in and auditing the job.
LEP For Residential Construction in New England; this one is new and is a GAME CHANGER. Here is a brief excerpt from the LEP...Note the NAICS CODES and see if it includes you.
DIRECTIVE NUMBER: CPL 04-00.018D I EFFECTIVE DATE: October 1, 2014 SUBJECT: Regional Local Emphasis Program (LEP) for Residential Construction REGIONAL IDENTIFIER: Region I
This notice replaces area• office residential construction local emphasis programs (LEPs) and establishes a residential construction regional local emphasis program (LEP) for conducting inspections of residential construction work sites within the jurisdiction of the Federal OSHA Region I. The target groups are employers with a Standard Industrial Classification code (SIC) of: SIC 1521 (NAICS 236115), General Contractors, Single-Family Houses; SIC 1522 (NAICS 236116), General Contractors, Residential Buildings, Other Than Single-Family; and employers in SIC code Major Group 17 (NAICS 236000- 238990), Construction Special Trade Contractors working on residential construction work sites.
The directive states that the CSHO cannot tell if people are working safe on the inside of structures and this is where there can be numerous safety violations. Unsafe conditions include misuse of ladders, scaffolding, unguarded power tools, bad electrical cords, no dust protection and more. The directive calls for a special focus on residential construction sites where there are multiple trades. Example; Remodeler or Builder building a large addition or home with multiple trades on site. The CSHO can target this project.
What this means is every part of the residential job site is now fair game for the CSHO. These LEPS are like warrants and give the CSHO authority to stop in and say hello.
We are recommending that all contractors be mindful that they make sure their employees are trained and using fall protection on heights above 6'. Second we recommend that you require all of your subcontractors follow the OSHA standards applicable to their work.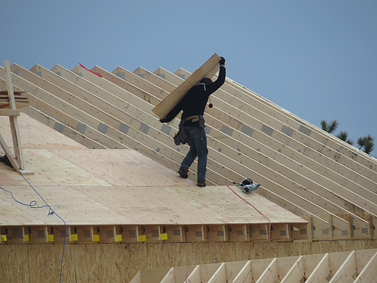 If a General Contractor Builder or Remodeler hires roofers, painters, siding, window and gutter companies and framers OSHA requires that you enforce safe work practices on your sites. If your subs are working unsafe the Multiple Employer Citation Policy can be invoked.
**In this picture we see an unsafe subcontractor working on a project in Yarmouth, Mass on Cape Cod.**
Working safe is in everyone's best interest. Protecting your employees improves morale, reduces the likelihood of injuries and deaths and lowers the risks of citations, fines, litigation and increased insurance premiums. Making sure your subcontractors work safe prevents them from being a red flag on your site. Before you take the chance that your sub is a red flag, require them to provide a safety manual, written fall protection plan and certification that there men are trained.
In an article by Att. Craig Martin he recommends that you have a subcontractor agreement and indemnity clause that places OSHA compliance on them.
To help contractors stay safe on both the personnel and legal front, we offer a training workshop on OSHA Fall Protection to train you, your employees and subcontractors on OSHA Fall Protection in open sessions or private trainings. Click here for more information.