OSHA Inspections in the Construction Sector Spring of 2015
The winter is just about over and thousands of homeowner projects are about to get underway in Massachusetts, New Hampshire and Connecticut.
The recent winter has clobbered the outside of homes adding thousands of projects to the market that is also seeing high demand for remodeling services.
While you, your workers or subs are up there doing your magic be aware that someone is watching you. Please be safe and use your fall protection equipment. Also don't let your subs work on your site unless they have their equipment, their documented training and then make sure they use it on your site. Failure to do so can bring OSHA to your site and the General Contractor can be cited and fined along with your sub for not making sure they work safe.
The following picture was sent by a person riding by the site on Cape Cod. Guy alone framing large building in condo project.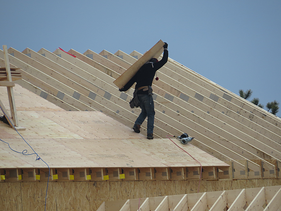 The OSHA website is chock full with recent fall protection related site audits and OSHA has a new resolute motivation to stop by construction sites and see what is going on. The recent skylight fall deaths and accidents in the news tells them they need to continue to focus their enforcement efforts on the construction industry. Many of the recent OSHA listed site audits are the result of referrals from other government agencies and personnel and from complaints of workers on site or people driving by. The new enforcement method gaining momentum in government is whistleblowing.
Last month while I was teaching an OSHA 30 class a contractor said a company was cited for failure to provide fall protection while removing snow and ice from a roof on a store. The OSHA inspector was shopping at this grocery store and noticed unsafe conditions and started his audit.
Here is another one from an OSHA news release;
New Hampshire electrical contractor exposes employee to fall and electric shock hazards at Concord jobsite
Daniels Electric Corp. faces $40,000 in fines after OSHA spots violations
Employer name: Daniels Electric Corp., an electrical contractor based in Gilford, New Hampshire.
Inspection site: 8 Loudon Rd., Concord, New Hampshire 03301.
Date inspection initiated: The inspection began Dec. 8, 2014. An OSHA inspector driving by the worksite observed a Daniels Electric Corp. employee without fall protection replacing a light fixture on the roof atop the Buffalo Wild Wings Restaurant. An inspection was immediately opened.
Investigation findings: OSHA found that the employee was exposed to a 12 foot fall due to the lack of fall protection. An additional fall hazard stemmed from the fact that the extension ladder used to access the roof did not extend at least three feet beyond the roof's edge for required stability. The employee also faced possible electric shocks and burns because the circuit controlling the light had not been locked out to prevent it from becoming unintentionally energized. These conditions resulted in Daniels Electric Corp. being cited for one willful violation of workplace safety standards for the lack of fall protection and two serious violations for the other hazards.
Proposed Penalties By OSHA: $40,000.
This next picture was taken on Beacon St in Newton, Mass. las month. There are 6 visible violations in the picture. Could this be your sub?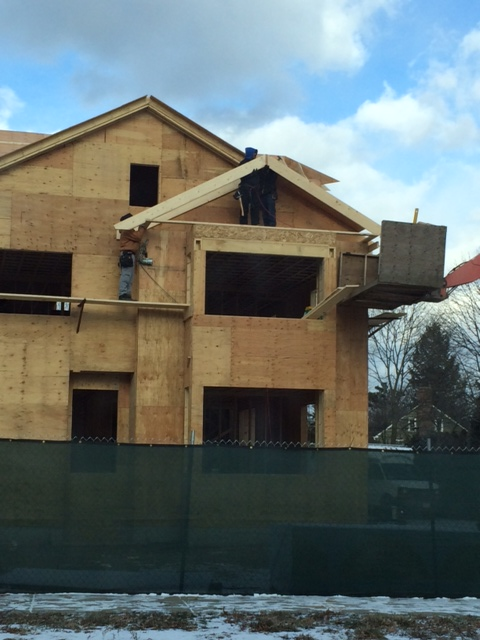 Our next fall protection training is 4/10/2015 at National Lumber in Mansfield, Ma. Get up to speed on what you need to do before someone gets hurt or someone rides by your site and sees unsafe activity. Remember that if you are a General Contractor, Builder or Remodeler you are responsible for a safe work site for all workers, both employee and subcontractor.
Tip: some contractors who are not sure how to get their subs on board bring their subcontractors (Roofers, Framers, Painters, Siding and Gutters, Masons) to our training with emplyees so every one can get on board together.
Plus they can point to me as the bad guy!
Click here for our next fall protection training.
PS; Lumberyard and Material Suppliers; help your contractors be safe and avoid fines (so they have more money to buy more stuff from your yard) by hosting one of our OSHA Safety Trainings at your designated location. Contact Mark.