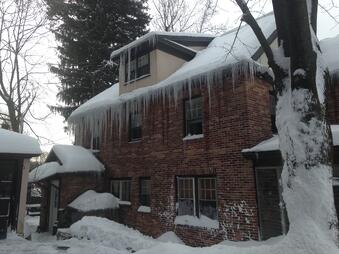 In February, I produced an Insurance Claim Workshop to help contractors effectively assist their homeowner clients with winter ice dam and frozen pipe burst claims. Many contractor students used the strategies taught to successfully convince insurance adjusters to increase the scope of work and subsequent pricing so they could do the job at the right price.
Fortunately some claims have settled but unfortunately, there are still thousands where the insurance companies have not offered fair and reasonable settlements for the damages homeowners have incurred.
Here is what contractors are currently telling us;
They are still receiving calls from homeowners who haven't seen their adjuster since February
Homeowners are still waiting for an estimate
Homeowners have received low estimates that are 30 to 50% lower than prices quoted by adjusters
Insurance companies are leaving out damage that is in plain view and writing for only the damaged area leaving out connected walls, ceiling, floors and other surfaces.
No one is calling homeowners back after numerous calls
The walls and insulation have been torn out since February or March by a remediation contractor and no one has been back to them.
No one told the homeowner that they may be entitled to additional living expense to live somewhere else until their destroyed home is fixed.
The insurance companies are telling homeowners that their low ball offer is all that they will pay.
If you have a client who is experiencing any of these unfair practices there are effective ways to help them. Here are seven strategies we teach our students in the insurance claim workshop.
7 Strategies to Help Homeowners With Their Property Damage Claim
1. Offer to review the insurance companies estimate for the homeowner and compare with the actual damage they sustained.
2. Conduct a code review of the affected areas and structure. The work that must be done might trigger code upgrade work that the may be covered by the insurance company. Your homeowner client will thank you for knowing this before the work is ordered.
3. Offer to meet with the insurance adjuster and go over the scope of work they have written. Then explain what is missing and what must be done to do the job correctly with a legal, licensed, insured and safe contractor. We recommend that if you do this that you ask them to first hire you as a Contractor Consultant. If you are a licensed contractor you are likely more qualified than the insurance adjuster who is assessing the storm damage. Many of our clients are successfully getting paid to do a detailed estimate and be the Contractor consultant.
NOTE: In our Insurance Claim Workshop we show you how to do this and get paid for the consultation service so you are not an unpaid consultant.
4. Matching contiguous surfaces; let the homeowner know that the insurance company is required by law to pay for all work to bring them to the pre-loss condition. This includes redoing surfaces that are contiguous such as;
hardwood floors
interior walls and ceilings
carpet
tile walls and flooring
exterior siding and trim
roofing that has been damaged with shingles torn off
exterior painting for the whole exterior if it will not match
repairing and exterior resurfacing decks and rails
5. Custom trim and cabinetry; if custom trim and cabinetry must be removed and replaced they must pay for new trim and cabinetry that matches. Let homeowners know that insurance companies are famous for not paying for built in place cabinets. One out of state adjuster recently told me he could remove a built in place kitchen by removing and re installing the pieces. I lobbied to have him removed from the claim and got a new adjuster! The new adjuster agrees that the whole kitchen needs to be replaced and has approved all new cabinets!
6. Plaster, Drywall and Painting; many insurance companies are pricing drywall when the damaged walls and ceiling are plaster or blue board with skim coat. Adjusters who do this are either ignorant (from another part of the country) or are on purpose writing for the lower quality work because the insurance company told them to do so.
On painting, insurance adjusters are often writing to apply only one coat of paint where one prime coat and two finish coats are the industry standard. Explain to your homeowner client that professional painters prep, prime and paint two finish coats.
7. Write a detailed estimate on Excel; the insurance companies have monopolized the insurance pricing for claims using a cloaking device called Xactimate. They successfully hide behind unit cost numbers that are often so low on scope and price that a consumer would be forced to hire underground contractors, do less work or fund the difference it will cost to hire a professional licensed and insured contractor, like you.
By writing a detailed estimate on Excel that includes all the costs of what you have to do to restore the home to the pre-loss condition the insurance adjuster has to look at a different format than Xactimate. We recommend that you ask the homeowner to hire you out as a contractor consultant to do this. Who is more qualified, you the licensed contractor or the hired gun from the insurance company who may not even know the current building code?
Note: In our Insurance Claim Workshop Receive an Excel Workbook Template to use for insurance estimating purposes.
Become the homeowner's hero...
There will be many more insurance claim calls though out the summer from homeowners who have not been properly serviced by their insurance companies and adjusters. Some are just getting around to dealing with the mistreatment and they will need help. Use the strategies above to help your client's receive a fair and complete insurance assessment. When you do they will be grateful and give you the project and maybe other work while you are there!
If you want personalized help on how to do the above Contact Mark.
---