Another worker without fall protection, fell to his death in Massachusetts. Last week on 1/14/2016 in Sutton, Ma. 22 year old Ricardo R. Oliveira fell 25 feet while working on a job site at 449 Central Turnpike. He was transported by a life flight helicopter to a Worcester hospital. He died a few days after succumbing to his injuries. I doubt he went to work thinking he was going to die but that is what happened.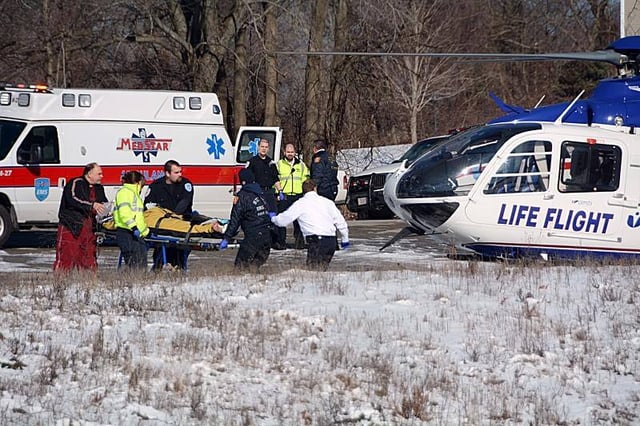 In a former post I shared that most of the people I train on OSHA fall protection either got fined, had an employee injury or had someone get killed on their site. Then they were compelled to provide fall protection training for their men.
Why did they wait for someone to get killed or hurt?
Picture from Sutton Police Facebook Page.
What do we need to do to get more residential contractors to step up to the plate and protect their workers?
Lack of fall protection and training is a major problem in the residential construction industry. Last week I was in a training with several OSHA trainers to renew my OSHA Outreach training certification. Many safety professionals in the class told me they are shocked but not surprised at the amount of unsafe behavior still prevalent in the residential construction industry.
I suspect that the major cause of falls in residential construction sector is the lack of employer commitment to safety and training. OSHA requires employers to provide a safe and healthy work place for their employees and subs on job sites. Last year failure to provide fall protection for workers working over 6 feet was again the top cited and fines violation.
Unless we find a way to reach more contractors fall injuries and deaths will continue to mount and OSHA will keep focusing on residential contractors. We are seeing more enforcement focus on home builders, general contractors and remodelers. If you think about it a typical home builder will have more than 20 subs on a project. If OSHA focuses on Builders, Developers, General Contractors and Remodelers they can reach more companies just by focusing on the larger contractor.
When OSHA comes to your site they will be looking for fall protection compliance and proof that you train your workers. If your subs are working unsafe both of you can get cited and fined.
Please be sure to train your workers before it is too late and make sure all your subs follow suit.
For help with fall protection training, private training and getting subs on board contact me.