Last week I met the head of OSHA Construction at the Hanley Wood National Remodeling Leadership Conference. He said Fall Protection violations in the residential construction industry continues to be the number one most cited standard. He said they are doing all they can to change this result but admitted that they are a small agency and they are relying more and more on complaints and referrals. In fact 25% of job site audits come from complaints and referrals. He suggested contractors need to step up and make sure they provide fall protection training for their employees.
Note; Also don't forget that you, the general contractor need to make sure your subcontractors work safe on your job site or you can be fined with them.
Where do referrals and complaints come from? (EVERYWHERE)
In this picture taken by someone riding by a new home build on Beacon St. in Newton, Ma. the men are using spruce planks, have no guard rails, are using a man made basket, men on the roof with no fall protection, no hard hats and no safety glasses.
When some concerned individual rides by your job site what will they see?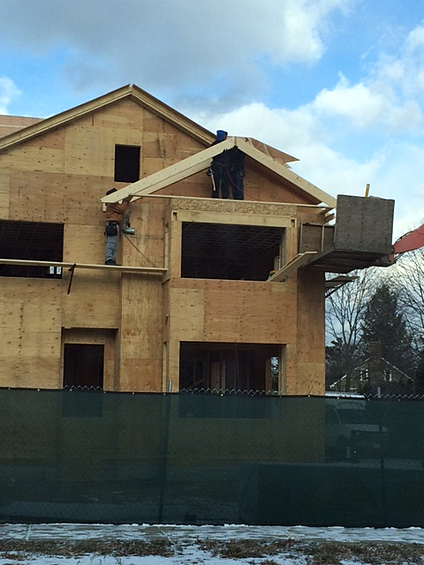 Recent OSHA Fines
A contractor client who recently got fined for failure to provide FP, told us that OSHA got a complaint and visited several contractors in Hatfield, Ma. He doubts they would have known or found his project because he was working on a house at the end of a dead end street. He was cited and fined. The complaint call came from another contractor.
OSHA has stepped up its ability to enforce by promoting whistle blowing incessantly. You never know when someone will call on you.
Last year a contractor in New Hampshire was fined after a citizen saw his men working without FP as they drove by the building.
Earlier this year two inspectors were driving back from an audit in North Smithfield, R. I. and they saw men working without FP. This Lead to $72,000 fine.The contractor is from Brockton, Ma They were on a ladder jack scaffold with no guard rails or protection.The OSHA publication says they saw a "clear and present danger" and immediately stopped by the job and ordered the men to come down of the unsafe staging.
In January 4 different contractors working on the same job in Easthampton, Ma. were fined Fines included no fall protection, no training on how to recognize hazards, unguarded holes and insufficient anchorage. The Agency is using the Multiple Employer Citation Policy when they see various contractors on the same site.
On the Mass north shore earlier this year three men fell off a scaffold while using a spruce plank not graded for scaffold use. The roofer was fined $294,500. To make matters worse the General Contractor was fined because they were deemed a controlling contractor. Violations include ladders not set three feet above a landing surface, failure to train employees, using scaffold planks above 20 feet and more.
With remodeling and new home construction work heating up in Massachusetts the likelihood of someone seeing your job site and calling on you is high. Complaints and referrals are coming from workers, subcontractors, people riding by, other enforcement agencies, municipal workers like fireman and police, building officials and average citizens.
To not present for violations (see post on 12 steps) contractors need to make sure that their employees are trained and working safely. Also make sure you never allow subcontractors to work unsafe on your projects.Be especially careful with roofers, painters, framers, gutter installers, siding installers and masons.
FYI; Our next Fall Protection Training is June 2, 2015 at National Lumber in Mansfield, Ma. To register click HERE