The winter of 2016 has begun and with it the possibility of storm damage from ice dams and snow and falls from roofs. Last year Massachusetts had thousands of insurance claims and many are still unsettled. In addition we had many die from falling while clearing snow from roofs.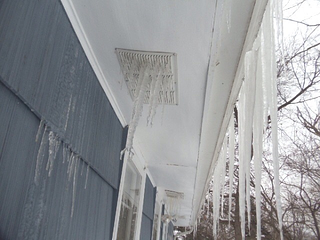 Just yesterday we reached agreement on storm damage claims from last February. No one knows if we are about to have another historic storm pattern like 2015 however there are some things contractors can do to help protect workers and their homeowner clients.
Removing ice and snow
Insurance companies require homeowners to make reasonable attempts to prevent damage to their properties. With snow and ice the usual mitigation is to remove the snow and ice from the roof. Most homeowners will call contractors to do the task. If you are called remember that you must work safely and follow OSHA Fall Protection rules. I know in Massachusetts OSHA will be focusing on snow removal this year due to all the people who were killed removing snow in 2015.
Most insurance companies will pay for the work to remove snow and ice to prevent further damage. This work is called mitigation. Let your homeowner clients know that this work is separate from the damage repairs. Prepare an itemized bill for your client that includes your labor, fall protection, staging, materials and overhead and profit. Students from our Insurance Claim Workshop last year reported that they were very successful in helping their clients receive reimbursement for reasonable snow/ice removal services.
Estimating Insurance Claims to help your homeowner clients.
Last year thousands of claims were assessed by catastrophe adjusters who were not from the Mass area. Many of these adjusters created insurance estimates that did not cover all the damage and were extremely low on scope of work and price. Polling contractors from our Insurance Claim Workshops we were told that most first estimates from the adjusters were as low as 30 cents on the dollar. For example we had a claim in Sharon, Mass that started at $35,000 and we finally agreed to a $130,000.00 settlement once all damage estimates were approved.
To help your homeowner client we recommend that you offer to help them as a contractor consultant. You would only focus on the construction estimate part of the claim to restore the property to the pre-loss condition. You, unlike the insurance adjuster, are a licensed and insured contractor, qualified to assess the storm damages for the homeowner. We recommend that you charge an estimating fee to conduct a site assessment of the structure damages including a code review. Too many contractors spend hours on estimating claims as an unpaid consultant and do not get the work.
The insurance company requires a detailed broken down estimate which takes several hours to complete. They will counter your estimate with a confusing and incomplete Xactimate assessment. It will take some time to figure out what they include and do not include and then discuss these missed items.
Are insurance adjusters qualified to assess and estimate code required work?
We have found that most insurance adjusters do not have a construction supervisor license as required to do code related work. They often do not know the current building code that dictates how we must renovate the property. They leave out obvious items like the building permit. They almost never include the cost of providing fall protection safety equipment to protect workers. On pre-1978 homes they leave out the cost of mandated RRP lead containment protocol. They fail to address obvious code items like insulation, electrical, plumbing, fire code and roof code that will be triggered by the repair work. They leave out the direct costs of supervision.
Last year we found many adjusters incorrectly called plaster, drywall to keep their estimates low. One adjuster from Florida said he only writes for drywall. I asked him if he knew what blueboard with skim coat plaster was and he said they don't do that anymore!
Another tactic we found was only wrtiting for the damages to the exact wall, ceiling and floor area and leaving out matching contiguous surfaces. Imagine what your customer would think if you refinished part of a floor or ceiling and then stopped abruptly in the middle of a room or wall.
We also saw estimates where they said patch a small area of the textured ceiling, then scrape the rest of the textured ceiling and then reapply a textured skim coat.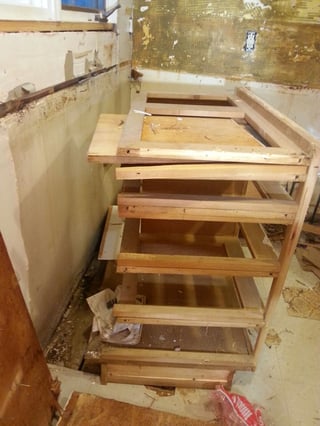 Lastly in Lexington, Mass an insurance adjuster told me that he could take off built in place cabinets and re install them with no problem. The cabinets had no back and were built on to cleats on the wall. He insisted he knew what he was doing. The homeowner asked my contractor client for help. We prepared the construction estimate to convince the insurance company that their adjuster was incorrect. After the demo we sent them this picture and then they agreed to pay for the whole kitchen including electrical upgrades. My contractor client is now a hero in the eyes of the homeowner.
In closing, you the licensed and insured remodeler/general contractor are the best choice to help a homeowner receive a fair shake from the insurance company. Help them by being their paid contractor consultant and prepare a complete and accurate construction estimate based on all the damages.
For advice check out our Insurance Claim Workshop page or contact Mark