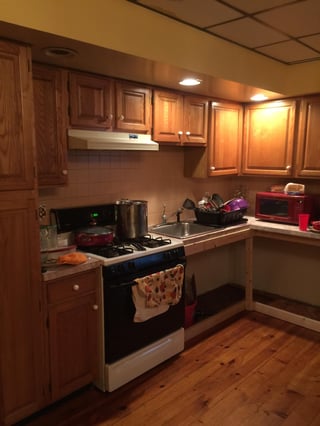 Why do insurance companies continually short homeowners on claim estimates when obvious damage is in clear site?
Do they do it intentionally telling adjusters to be skimpy on scope and then hoping the homeowner will just accept whatever is offered?
Too often we see adjusters who are instructed by insurance companies to keep scope light and estimates low. In our estimating workshop we spend time showing contractors the importance of estimating all items needed to complete a project. This helps when encountering adjusters who provide broken down estimates.
Homeowner receives estimate low on scope and money
I was called by a contractor client to help out their homeowner client who had a pipe burst in their apartment house damaging two kitchens, floors and ceilings. The insurance company sent out an adjuster to assess the claim. His estimate for repairs was woefully low on scope of work and money to restore the property to the pre-loss condition.
Several cabinets took on water and were destroyed. The insurance company decided to call out a cabinet repair company to rebuild the sink bases, lazy susans and two base units. The first offer was $9,000.00 for cabinets and related repairs.The repairs included making new boxes with new fronts and the cabinet maker would match the existing 20 year old cabinets remaining. The insurance company sent in the water restoration contractor who removed the cabinets. Of course this left each tenant without a kitchen sink for 8 weeks.
The homeowner feeling that he had been hoodwinked, first called out a kitchen contractor and asked if it was possible to make new bases and match the remaining run of cabinets. The answer was, not possible given the damage and aged finish of the remaining cabinets. The kitchen contractor explained at a minimum if the bases were replaced the remaining cabinets would have to be sanded down and refinished in place, not an easy item to do in an occupied apartment.
Next the homeowner called the adjuster explaining the assessment of a professional kitchen contractor contradicts the scope of work and pricing in the initial offer. The insurance company claimed we do this all the time, your contractor is mistaken.
Then they called me and now it was 4 weeks after the date of loss. He hired me to handle the claim as his public adjuster. We worked up an estimate to bring the apartments back to the pre-loss condition. I interviewed the kitchen contractor and looked at the damage and it was determined that the only reasonable scope of work was to replace all the cabinets. The adjuster told me he has to check with his kitchen repair guy to see if he can make the replacement boxes and then refinish the remaining cabinets left in place in two kitchens. After two weeks he called me and said we are going to pay for two new kitchens complete. I asked him what did the kitchen cabinet shop say...he said the price was more than replacing a few kitchen cabinets!
So the initial low ball offer of $9,000 was increased to $28,000.00 including replacing all the cabinets in the two kitchens.
The lesson here is you can never count on your insurance company and their adjuster to give an initial complete scope of work and accurate pricing to hire a professional to bring you to pre-loss condition. Insurance companies train their adjusters to leave out as much scope of work as possible keeping claim settlements low. They usually use the "Cloaking Device" pricing software called Xactimate and claim that is the national standard for pricing. I can assure you it is not.
When I get called by a contractor looking to help their client on a claim I do a complete and thorough assessment for damages and also look into any code related work that may be triggered rebuilding the home. Insurance company adjusters are often not licensed builders and have little or no knowledge of the local code. They leave out numerous items hoping they are not questioned and that you will just settle and go a away.
To insure that homeowners are treated fairly after sustaining a water, storm, fire or wind loss it is important to have someone on their side protecting interest. Contractors call me often to help them help their clients early in the claim process. For help on insurance claims estimates contact Mark.
Note; Mark Paskell is a Licensed Public Adjuster and Construction Supervisor in Massachusetts