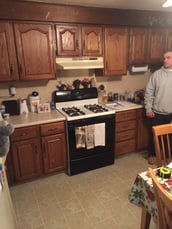 Insurance companies and their adjusters continue to exploit homeowners on covered damage claims by refusing to include items clearly damaged by snow/ice dams, frozen pipe bursts and water intrusion. This week I will be viewing property claims with my contractor client to help him help his homeowner client. We will be meeting with the independent adjuster and the insurance company adjuster. The damage occurred in the winter of 2015!
The wrong scope to minimize costs
On one claim they insist that some 30 year old cabinets can have doors and bases remade and replaced while leaving the remaining bases and wall units and then we can refinish the rest of the cabinets in place to match.
Insurance company only paying for half the of the surface siding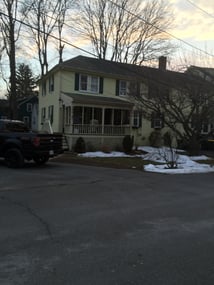 On another claim they are insisting that we can replace aluminum siding on on one side of the house and it will match the other. The siding is 45 years old. In addition the aluminum siding is installed over asbestos.
Insurance Company scopes Illegal staging against OSHA Standards
Also on staging, they are only allowing ladders with bracket and planks for staging to replace a roof that is over 20 feet of the ground. They want us to violate OSHA Safety Standards and put our workers at risk using illegal staging! In the OSHA standards it says that you cannot use ladders with brackets and planks over 20 feet.
On another claim they are offering to replace some aluminum siding and then paint the remaining aluminum siding. Painting aluminum siding in the field will not put the consumer in the same pre-loss condition.
Teaching licensed contractors how to deal with low ball scope of work estimates
Last year I trained over 75 Massachusetts Licensed Contractors in my Insurance Claim Workshop. They all report that once they got involved in assessing storm damage for their homeowner clients, that low ball estimates from insurance adjusters at a minimum doubled and even tripled with their help. Insurance companies order their adjusters to find ways to keep claim estimates as low as possible by leaving out scope of work and using low rates that only handymen will work for. Insurance adjusters prey upon consumers ignorance. When the homeowner tells the insurance company that a contractor's estimate is higher they say the contractor is gouging you.
Insurance companies usually base their repair costs on the jack of all trades handyman. Handymen are not usually regulated or licensed. The insurance companies know that most homeowners are ill equipped to know the ins and outs of assessing insurance company repair estimates. They are counting on the homeowner giving up and accepting the low ball offers.
In a recent article in Remodeling Magazine it was reported by a whistle blower that hurricane Sandy victims were screwed when the insurance adjusters were told to deny claims or low ball the damage estimates. Some of these claims are 4 years old and many people are still not living in their homes. Contractors in Massachusetts are telling me that they continue to see these low ball tactics from insurance companies regarding 2015 winter claims and recent pipe burst claims from the February cold spells.
I know of several people in Massachusetts who are still suffering from damage form the winter of 2015. They have estimate offers from insurance companies that are insufficient on scope and pricing to hire a licensed contractor. Many of these consumers have hired a lawyer to help them.
What to do if you have homeowner clients who are being mistreated by the insurance company;
Assess the damage and provide a detailed broken down estimate for them. Be sure to include all the costs you will incur to do the work legally. Include the costs for;
Tell them that they do not have to accept a low ball offer from the insurance company. Ask them if they want you, the licensed contractor, to assist them as a paid contractor consultant.
Code updates; if the work will trigger code updates then make sure to assess them. The insurance adjuster always leaves this out and is rarely a licensed contractor. (Maybe all adjusters should have their Mass CSL License before they are allowed to determine damage estimates and repairs regulated by the code)
Design and engineering costs; many building inspectors, cities and towns require plans and layouts before they will issue a permit.
Permits; many insurance companies are not including the cost of the permit in their estimate. This is causing many homeowners to conclude the work may not require a permit and then tempted to hire a unlicensed handyman. Also the homeowner has to come up with the permit funds if it is not included.
OSHA safety; a claim I am reviewing this week includes ladders with ladder brackets and planks to do a roof on a 23 foot high building. This violates OSHA Standards and will cause a huge OSHA fine and puts workers at risk. If the homeowner hires a contractor who works unsafe on their home and someone is hurt, they can be held liable by OSHA and sued by the worker. In addition the job can be shut down!
Job mobilization; insurance companies usually leave out the costs associated with setting up the project. They think it is ok for the contractor to eat this cost.
Job supervision; the insurance company is hoping that the homeowner will accept the low offer and hire a handyman and subcontractors directly and then manage them. Homeowners have the right to hire a professional licensed contractor who handles this.
Sub-contractor coordination and supervision; the insurance company often says this is overhead. Don't be fooled this is a direct job cost that a professional licensed contractor includes to do the project professionally.
Equipment rental; equipment depreciates and breaks down. Professional contractors charge a nominal fee to each job.
Trucking and hauling equipment and materials; the professional contractor uses his truck to bring items to the job site. The insurance company would like to see the contractor eat this cost or have the homeowner use their personal vehicle!
Environmental requirements such as RRP Lead, mold and asbestos mitigation. Try doing a job without following the EPA rules and see what happens if you are caught.
All the materials and labor necessary to bring the homeowner back to their pre-loss condition. This includes replacing items to the same kind and likeness. For example if the kitchen cabinets are warped and the bases absorbed water ALL the cabinets need to be replaced. If the cabinets are built in place and you need to take them out to replace the wet wall insulation then they need to be replaced with new custom cabinets.
On the exterior be sure to include the complete scope of work so that all surfaces will match when the repairs are done. For example if the roof is damaged and shingles need to be replace all contiguous slope must match.
The same goes for siding. If the home has vinyl or aluminum that is not made any more they must pay for replacing all of it. If the home is painted then the final paint job must include all sides to match.
The best professional to help homeowners restore their damaged property is the licensed and insured contractor. When the insurance adjuster shows up ask him to provide proof that he is a licensed and registered contractor before he does the assessment. If he is not and you let him proceed, the odds are that your scope of work and estimate will be as low as 30% of the true value your policy covers.
Consulting and Training On Insurance Claim Estimating; I train many contractors on how to help their homeowner clients with insurance estimates. If you need help or would to learn more contact me.