Here we go again, OSHA announces the top 10 most cited violations (below) and wouldn't you know Fall Protection tops the list again!
In residential construction OSHA is citing and fining Builders, Remodelers, Developers, Roofers, Painters, Siding and Gutter Contractors and any trade who exposes their workers to falls from heights 6 feet or more above a lower level.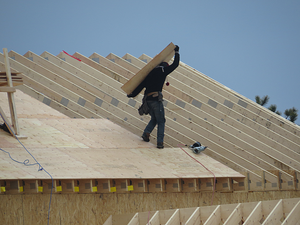 In a recent OSHA Fall Protection training a commercial contractor asked why do residential contractors continue to ignore the fall protection standards?
He stated; "In the commercial world it is common understanding that we need to protect our workers and follow OSHA requirements."
In the class several residential contractors chimed in to offer their opinions. Here are four contributions from the class;
Contractor 1, a Mass Home Builder said; It costs too much money for men to work with ropes, harnesses and guard rails. If I follow and enforce the rules it is going to be hard to compete with home builders who hire unsafe framers, roofers, painters, masons and siding companies.
Contractor 2, a Boston area Remodeler said; yes it costs a lot of money and none of his subs want to work with fall protection or comply with OSHA standards. Some tell me it only applies to commercial work.
Contractor 3, a Waltham area Roofing and Siding contractor said; I am going to do it because I do want to protect my workers but the majority of roofers and siding companies I compete with do not use fall protection. Quite often I see contractors working on weekends with the undocumented to avoid scrutiny as they know OSHA does not work on weekends.
Contractor 4, a Worcester area Painting contractor said; I am here because I was fined however most of the painters I know and compete against are not using fall protection and are often hiring undocumented immigrants.
Another observation brought up in the class is that OSHA 10 and 30 certification training not required on non public sector work. In many states like Massachusetts, when working on public sector work all workers are required to have either OSHA 10 or OSHA 30 certification cards. This is written into the Mass General Laws. Commercial contractors must comply with this law or forgo work on public projects. (FYI; New Hampshire, New York, Connecticut and Rhode Island have similar OSHA laws for public sector work.)
In the residential construction sector contractors have no government requirement to provide proof of OSHA 10 and 30 certification training as a prerequsite to perform work. Without this incentive many residential contractors do what they normally do, avoid and ignore it. Many only seek training when they get cited and fined or they have a job site injury/deaths.
Other significant concerns are many residential contractors fail to;
do not have safety manuals
do not hold tool box talk safety meetings
don't conduct job hazard assessments before work begins
don't train workers on fall protection and other OSHA standards before hazard exposure
allow sub-trades to work unsafely on their jobsites.
What many residential contractors do not realize is they are required under the OSH Act to provide a safe and healthy workplace for all of their workers on their sites. They must train their employees and require their subs to work safe. Even though they are not mandated by statute to provide OSHA 10 and 30 training they must comply with the OSHA standards.
What happens when there is a government regulation requiring residential contractors to comply?
Remember 2010 when the EPA RRP Law was upon the residential industry and contractors were told they would be fined $37,500 per day for violations? Thousands of contractors lined up over the course of 6 months furiously seeking to get certified by 4/22/2010. They wanted to avoid the huge fines. However, as usual contractors waited until the last possible moment get certified.
Another government required example is in Massachusetts where licensed contractors must obtain continuing education credits every two years to renew their builder's license. Some contractors get their credits early but many wait until the last moment sometimes letting their license lapse. When they lapse they cannot pull a permit.
Regulatory avoidance and ignorance is the rule and voluntary compliance is the exception
Over the past 5 and 1/2 years we have trained thousands of contractors and we have found that the majority of contractors do not like to show up voluntarily for regulatory training . Unless there is a government required mandate with action date, most wait until the last moment, and many roll the dice ignoring the regulation until they are caught by an inspector or have a job site incident.
Another contributing factor causing avoidance and ignorance is the lack of education and training protocol in the residential construction industry. Without consistent defined standard operating protocol like one sees in the commercial and union construction sector, many residential contractors will continue to avoid and ignore OSHA and other regulatory statutes.
Multi-Employer Job Sites Are One Of OSHA's Most Preferred Inspections
One of OSHA's most effective enforcement tools is the Multiple Employer Citation Policy. They visit sites where there are multiple contractors working. Just one visit and the OSHA CSHO can reach numerous contractors. OSHA has limited inspection resources and they must find ways to leverage their site audits.First they focus on sectors that that have the greatest likelihood of injuries and deaths. The residential construction industry is now a targeted industry for attention.
Home Builders, Developers and Remodelers should take notice and make sure that all employees and trades are working safely on their site. The prime contractor can get nailed with the sub if his/her sub-contractor is not following the rules. The most common violations that trigger citations and fines is failure to follow the fall protection, ladder and scaffolding standards.
Here is most cited list;
The OSHA Top 10 Most Cited Violations for FY 2015 are:
Fall Protection (1926.501) – 6,721
Hazard Communication (1910.1200) – 5,192
Scaffolding (1926.451) – 4,295
Respiratory Protection (1910.134) – 3,305
Lockout/Tagout (1910.147) – 3,002
Powered Industrial Trucks (1910.178) – 2,760
Ladders (1926.1053) – 2,489
Electrical – Wiring Methods (1910.305) – 2,404
Machine Guarding (1910.212) – 2,295
Electrical – General Requirements (1910.303) – 1,973
If you have questions or need help with OSHA training for you and your subcontractors please contact us.