OSHA says deaths from falls are the number one cause of deaths on contractors' job sites.
Will the next fall death happen on your construction project?
Of course no one is thinking that a fall accident will happen to themselves or their workers. However it does happen all too often. The residential construction industry leads the way on fall deaths and failure to provide fall protection for employees continues to be the number one most cited OSHA violation.
In recent conversations with contractors I am seeing an alarming trend where they say nothing has ever happened to me or my guys so I do not need to worry about it. This is complacency. When builders and remodelers get complacent they forget the basics and fall into bad habits taking risks.
Complaceny kills....
Last year in Boston a construction worker was working safe for three months on staging. Then at the end of the job with the staging down the company pushed their guys to wrap up the punch list and get ready to go to the next job. One guy took a fiberglass ladder without pads or standoffs and set it up on a brick wall 20' high. The ladder was placed on the edge of the sidewalk out 38" and 20 feet high. The OSHA ladder standard requires that the ladder is set at 1 foot out for every 4 feet up. There was plenty of room to do this but the worker set the ladder at a 1 to 6.5 ratio.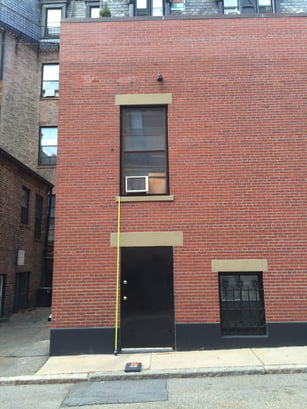 In the adjacent picture you can see a patch of brick to the upper left of the second story window. The worker had a cup holding the masonry paint and a paint brush.
As he coated spalling brick he reached too far and the fiberglass ladder slid. He fell to the ground hitting his head on a granite curb as a mother with child walking by watched horrifically. The father of two children then died!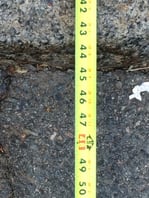 Here I measured from the wall to the edge of the 4 inch granite curb. The ladder was set just inside of the curb at 38".
With increased demand for work more contractors take chances...
The 2015 construction season is well underway and the demand for remodelers and builders is high. Consumers are anxious to get projects done after a damaging winter,and an improved economy. Remodelers and builders are gladly booking lots of work after some lean years and many have 4-6 month backlogs. Many are hiring but they cannot find qualified help because the good ones are working. Some are hiring any bodies they can find or they are using day labor services. OSHA says the employer is required to train these people before they are exposed to job site hazards.
With so much work and so little capacity I fear many construction business owners will rush to get projects done with skeleton crews or untrained workers. They will rush and try to do more with less. I suggest it is not worth it if someone gets hurt or worse, killed.
Before you, your employee or subcontractor does the next task while up on elevated levels take a few minutes and have a huddle to assess the dangers. Remember you and your workers are not firemen who have to take chances to save lives. You do not need to rush up the ladder or staging. Instead stop, assess, plan, train and protect. If you do not have the time, the help, the equipment or training wait until you do. Many accidents happen when workers rush at the end of the day or forgo the use of the right equipment because it is inconvenient.
For employers who have employees train your employees on fall protection, how to recognize dangers and provide them with sufficient time in the budget and the right equipment to work safely.
For general contractors, builders and remodelers who use subs, require that they provide proof of a written fall protection plan, documented training and sign your subcontractor agreement with a safety adherence clause.
(Note; OSHA is using the multiple employer citation policy to fine general contractors who use unsafe subs on their projects. Subs to pay attention to; Roofers, Painters, Framers, Siding and Gutters, Masons)
For help and guidance on fall protection training for your employees and subs contact us.
Next fall protection training is 6/2/2015 in Mansfield, Ma.