In 2015, a Massachusetts insured (homeowner) had major ice dam damage and filed an insurance claim. The initial insurance company offer was approximately $25,000 for repairs. They called a Mass contractor to get help with the estimate and quickly found out that the insurance company offer was low on scope and money to restore their home. This contractor called me to help him with the situation. He said he was sick and tired of giving free detailed insurance estimates and dealing with low ball insurance company adjusters.
My contractor coaching client wanted to learn how to handle insurance claim estimates and asked me to teach him how he could do the same. He hired me as a contractor consultant to assist him with a comprehensive assessment and critical path estimate for repairs. My line item estimate for obvious damage was about $180,000.00.
The insurance company strongly disagreed and said they were going to bring in a Massachusetts licensed contractor with the intent to disprove our thorough and complete estimate. This was a good development, as I have found in my experience handling hundreds of insurance claim jobs, that it is usually positive when you are dealing with a contractor and not a biased insurance adjuster.
We met at the house and I gave the insurance company contractor my excel workbook estimate. The insurance adjuster was displeased as he wanted us to use his low ball Xactimate estimate to go through the scope. Xactimate is a software use by most insurance companies and it is designed to keep claims low, homeowners confused and force contractors to work for nothing. It is like a cloaking device similar to what the Romulans used to hide from Captain Kirk. (See post on why you cannot trust an Xactimate estimate.)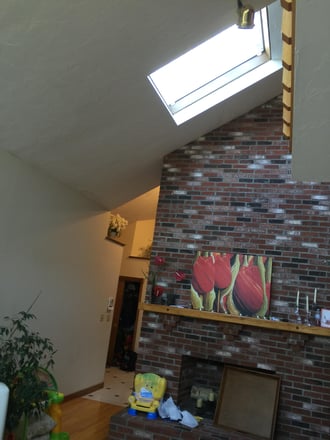 We started in the main family room to go over the scope. This room had a 20' long cathedral ceiling with skylights. The insurance adjuster said we only needed to remove 2 feet of the ceiling above the wall, treat the wood, then replace the insulation and patch the ceiling with drywall. Then apply a textured finish blending the skim coat into the existing textured ceiling at the two foot intersection. I interjected and said we have to take the whole ceiling due to the texture finish....that a seam with a patch will telegraph.
Then the adjuster said just seal and paint the wall below.
His contractor looked at him and said "you can't do that we have to take the whole wall and ceiling to remove the insulation, treat the wood framing and redo the wall and ceiling."
This happened right in front of the insured. The contractor told the company insurance adjuster who brought him in, he was wrong.
From that point on I discussed the complete scope with the insurance company's contractor. The result was a new scope of work and revised estimate of $125,000.00. Although this was not enough the homeowner (insured) was given an offer of 100,000.00 above the initial low ball estimate.
MOLD EVERYWHERE
Then the next thing that happened was mold had overtaken the house due mostly to the delays caused by the insurance company's denial of scope of work and fair pricing. The homeowner did not want to settle a claim that excluded all damages. They had to move out of the house because the three children and wife became ill due to mold.
The homeowner then hired a lawyer and mold expert. The mold expert found mold everywhere. Many walls, ceilings and most insulation were removed and the areas mitigated. Now that all the damage was visible our final estimate came up to $230,000.00
The lawyer filed for reference and after several meeting and hours of testimony the panel came back with a settlement of $220,000.00. This was more in line with the estimate we provided as a contractor consultant.
I fear many homeowners will suffer the same fate in Texas, Florida and Puerto Rico. The main incentive for insurance adjusters and companies is to pay out as little as possible on claims. Their estimates are usually very low on scope and price. To protect your homeowner clients have them hire a professional contractor or Public Insurance Adjuster to review the insurance company offer. If the offer is fair a professional we tell you so. If it is grossly low on scope and missing items that should be in the scope of work, hire a professional.
For assistance and insurance claim strategy training on how to work for homeowners as a paid contractor consultant contact me.